Futurefarmers (美国 USA)
http://futurefarmers.com

Futurefarmers 是由一组自1995年起在一起工作的艺术家和设计师。我们的设计工作室是一个支持对当地项目和研究感兴趣的艺术项目和艺术家的平台。我们当中有教师、研究 者、设计师、园艺师、科学家、工程师、插画师,也有精通缝纫、烹饪和驾驶的人,大家的共同兴趣是创造可挑战当今社会政治经济系统的工作。
Futurefarmers is a group of artists and designers working together since 1995. Our design studio serves as a platform to support art projects, artist in residency program and research interests. We are teachers, researchers, designers, gardeners, scientists, engineers, illustrators, people who know how to sew, cooks and bus drivers with a common interest in creating work that challenges current social, political and economic systems.
++++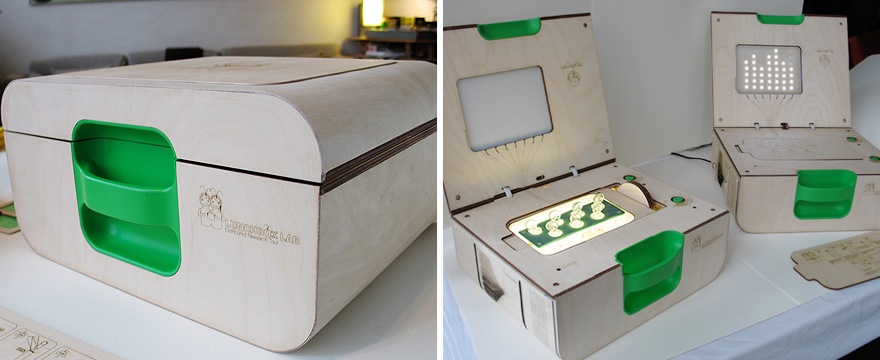 午餐盒实验室是"未来农民" 和国家再生能源实验室生物科学团队的合作项目。目前科学家们正在利用藻类来生产氢气,并已发现它是一种可行的可再生能源形式,因为藻类无处不在并可用来生产生物柴油。
研究的主要障碍之一 是找到生产力最旺盛的藻类。任务艰巨,因为现已存在百万株藻类可供选择。午餐盒实验室旨在创造一种可推广的研究工具并提供给一些学校,青年科学家可使用此 工具在收集来的藻株中进行初筛。经过初步的筛选,生产力弱的菌株将被剔除,生产力强的菌株将被运送到实验室。这个项目使得全国范围内的学生可在更广阔的科 学领域和网络中相互分享各自的研究进展。
Lunchbox Laboratory is a collaboration between Futurefarmers + the Biological Sciences Team at the National Renewable Energy Lab. Currently scientists are using algae to produce hydrogen and have discovered that it is a viable renewable energy form, in that algae is everywhere and it could also be used to produce biodiesel.
One of the main hurdles for the research is to find the most productive strains of algae. Since there are potentially millions of strains, this task is monumental. Lunchbox Laboratory is a prototype for a potentially distributed research tool that would be sent to schools such that young scientists could do primary screening of a collection of algae strains. This would serve as a preliminary screening such that non productive strains would be ruled out and only productive strains would reach labs. This project enables students to participate in big science as well as network with other students nationwide to compare notes.
+++++


土壤厨房是一个临时性的风车建筑,外观上看是一个风力发电系统,实则也是一个多用途空间。当地居民可在此用邻居家的土壤样品换取免费汤。
土 壤厨房坐落于费城北部的吉拉德大道和第二大街的堂吉诃德纪念碑所在的十字路口处,这座风车也是在向塞万提斯所著的《堂吉诃德》中的风车场景致敬。与小说中 代表"巨型敌人"的含义不同的是,这座风车象征着"自力更生",同时它也是一个雕塑,启发观众联想到一种未来潜在的绿色能源,并鼓励人们参与到"以土换 汤"的活动中来。通过在此空间内举办研讨会,活动和非正式交流,这种交换活动为进一步对话和行动提供了一个切入点。通过贸易经济以及检测并处理土壤中的潜 在污染物的方法,土壤厨房重新建立了一种关于自然资源可持续性的价值观
Soil Kitchen is a temporary, windmill-powered architectural intervention and multi-use space where citizens enjoy free soup in exchange for soil samples from their neighborhood.
Placed across the street from the Don Quixote monument at 2nd Street and Girard Avenue in North Philadelphia, Soil Kitchen's windmill pays homage to the famous windmill scene in Cervantes', Don Quixote. Rather than being "adversarial giants" as they were in the novel, the windmill here is a functioning symbol of self-reliance. The windmill also serves as a sculptural invitation to imagine a potential green energy future and to participate in the material exchange of soil for soup – literally taking matters into one's own hands. This exchange provides an entry point for further dialogue and action available in the space through workshops, events and informal exchange. Soil Kitchen provided sustenance, re-established value of natural resources through a trade economy, and tools to inform and respond to possible contaminants in the soil.
++++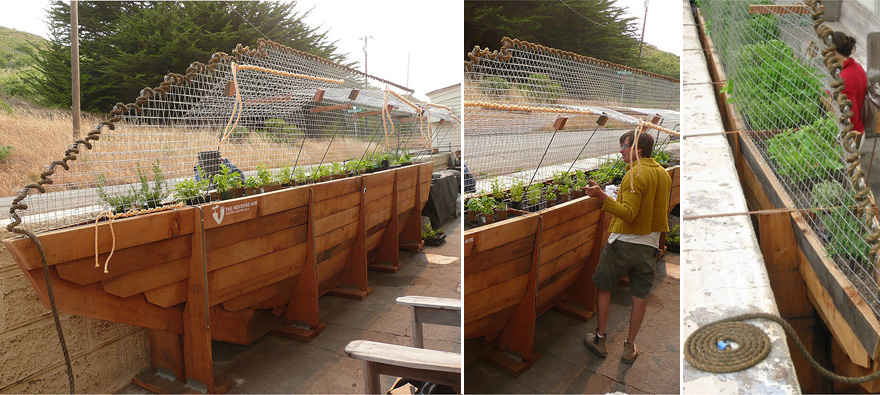 红木药草园由海岬艺术中心授权运营,因为它坐落于国家公园,所以禁鹿入内,并做好了洪水来临时即刻起航的准备。
Redwood herb garden commissioned by Headlands Center for the Arts. Since the garden is situated in a National Park it had to be completely deer proof and ready to sail away in case of a flood.
+++++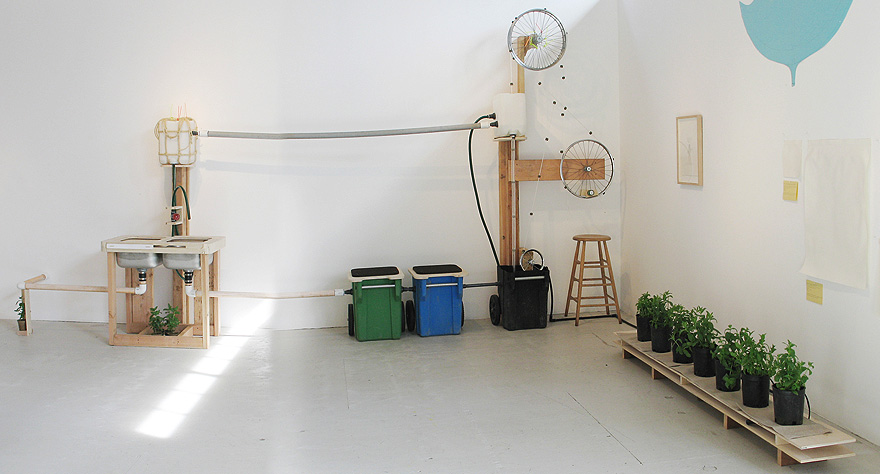 Rainwater Harvester/Greywater System Feedback Loop 是一个使用打捞的废弃材料制作的节水系统。它可储存两种水——雨水以及经流动而变热的水。水被储存在3个小的回收箱里,同时这3个回收箱也能当作长椅。右 边的手摇装置可将水抽回水槽供之后使用。水槽内设可调节管道,可将水输回储存箱的废水循环系统,用于花园灌溉或者直接倒出,让它回到城市循环中去。
Rainwater Harvester/Greywater System Feedback Loop is a water saving system made from salvaged materials. It stores two types of water–water that normally runs away while becoming hot and rain water. The water is stored in the 3 small recycling bins which can also be used as benches to sit upon. The hand crank device on the right is used to pump stored water back to the sink to be used at a later time. The sink is equip with a variable drain allowing you to decide to let your water run back into the storage units, into the greywater system to the garden or out to the city system.