re:farm the city (西班牙 SP)
www.refarmthecity.org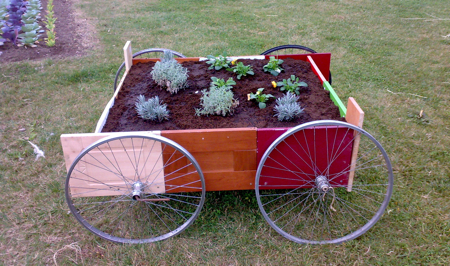 再耕种城市是一个国际化的城市农夫组织
再耕种城市有可用于城市种植的开源软件和硬件。 再耕种城市缩短了食物与我们之间的距离。
再耕种城市融合了:
一顿好的饭菜(绿色农作物,朋友,种子… )
+ 硬件设施(城市农场,培养器皿,电子技术,感应器, 回收的材料)
+ 软件设施(根据个人需要搭建农场,种植当地的蔬菜, 当地美食文化) 这些为你提供了设计、控制和管理你的农场所需要的工 具。
再耕种城市提供设 计、监控、管理与共 享小规模城市农场的 工具和方法。我们基 于可持续、有机、共 同种植以及感受当地 饮食文化的理念,寻 求设计农场的方式。 每一个农场都是利用 收集来的回收材料制 作的。这些农场通过 开发电子监控系统- 接上线路的"稻草 人"-在城市与农庄 建立联系,让你能够 随时接触到自己的农 场,并利用电脑就可 以进行灌溉和检测。 土壤的优劣无疑将直 接影响农场的好坏, 为了能够确保运用高 质量的土壤进行种 植,每一个农场都建 立了专属的土壤合成 系统。
Re:farm the City is an international network of urban farmers. Re:farm the City are tools of open software and hard- ware for urban farmers.
Re:farm the City shortens the distance between food and people.
a good meal (the crop, the friends, the seeds…)
+ hardware (the urban farm, the composter, the electron- ics, the sensors, recycled materials)
+ software (build a farm according to your personal needs, your local vegetables, local gastronomy). These give you the tools to design, control and manage your farm.
Re:farm the City provides the tools and know-how to design, monitor, manage, and share small-scale urban farms. The farms are designed based on methods of sustainable, organic, and companion farming, and local cuisine. Each farm is constructed with found and recycled materials. The farms bridge a connection between the city and the farm through the development of electronic monitoring systems – networked 'scare crows' allow you to be in constant contact with your farm, water your farm and monitor its conditions from your computer. Acknowledging any farm is only as good at its soil, each farm develops its own composting system to ensure high-quality soil to plant with.