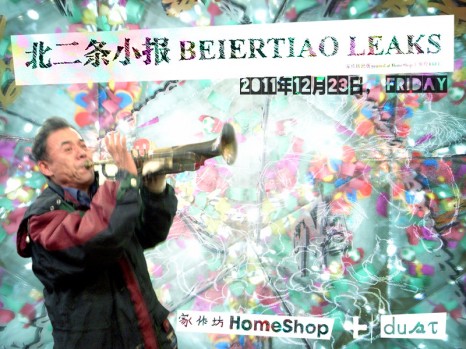 已经到了一年两期《北二条小报》印刷的最后期限,新一期即将出炉!借着家作坊入住交道口北二条一年的良机,新闻工作人员将对我们驻地媒体传播者的角色进行反思,这种反思是微型群体与城市的对话,艺术界的内部八卦,或一种试图理解和过滤当代地缘政治的尝试。
诚邀你参与我们这项带有北京胡同风格、对媒体和交流进行的调查,你可以以记者、编辑或撰稿人的身份参加。在市政府出台了一系列市场调控政策之后,哪里是安定门最热闹最隐蔽的地方?什么是堵塞交通或占领胡同内公共空间的最创新方案?为什么范老师不再对着墙壁打乒乓球了?
这周五中午12点之后来家作坊逛逛,与我们一起参与这份特别的本地报纸出版工作,大功告成后与我们的出版团队共饮。DUST bar 是家作坊的内部酒吧,提供威士忌及概念性故事游戏,以保证我们的新闻工作者们能够高效地运转。
概念青年旅舍[再现17岁]将组织有趣的饮酒游戏和"真实经历"交换活动。最佳故事讲解员将获得免费鸡尾酒一杯及其他惊喜。
出版工作室开放时间为12月23日(周五),从中午12点至晚上8点。DUST bar 开放时间为晚上8点至深夜。所有收入将用于家作坊的后续公共活动。非常感谢你的支持!
我们将利用周末两天时间完成报纸得制作与印刷,欢迎 任何对丝网印刷的基本技巧感兴趣的朋友在此期间加入我们。 第三期《北二条小报》将于12月25日之后发行,别着急!
BEIERTIAO LEAKS has reached its impromptu biannual print deadline——time for a new edition! Coinciding with the one-year anniversary of HomeShop's residency at Jiaodaokou Beiertiao, news staff are taking this opportunity to make a critical reflection of our role as embedded media purveyors both in and outside of the local scene, whether that encompasses a small community in Beijing, art world gossip, or an attempt to understand and filter contemporary geopolitics as a concurrent reality.
You are invited to participate as reporter, editor and copywriter for our ongoing investigation into media and communications in Beijing hutong style. Where is the hottest hidden property in Andingmen after the stern hand of market control takes hold over Beijing? What are the latest creative schemes to block traffic and usurp public space in the alleyways? Why doesn't FAN laoshi play ping-pong against the wall anymore?
Drop by HomeShop this Friday anytime after 12 pm to participate in the production of this unique local newspaper, and stick around after work hours for a drink with the press team. The DUST bar is embedded in-house for maximum efficiency, with whiskey and conceptual storytelling to keep our newshound teeth sharp and hungry.
The Conceptual Youth Hostel [Prototype 17] will play host to fine drinking games and "real experience" exchange, with free drinks and a round of other surprises to the journalist-narrators with the juiciest LEAKS.
The pressroom is open on FRIDAY, 23 DECEMBER from 12 NOON to 20.00. The DUST bar opens from 20.00 until late.  All proceeds go toward supporting the public activities of HomeShop; your support is greatly appreciated!
Presses will run all weekend at HomeShop, and anyone interested to learn basic silkscreening processes is welcome to join. This third edition of BEIERTIAO LEAKS will be available for pick up and delivery after the 25 December, easy going!