张爱玲说过,"降到尘埃, 开出花来"
虽然是小到如一粒尘埃般的酒吧, 但精华自在其中
每月穿越一次,找到 DUST bar…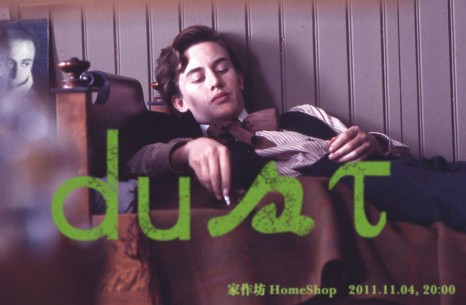 11月的DUST,Edvard Munch的画、Paul Celan 的诗 和 李增辉的音乐 有怎样的联系? For our initial installment, find dark autumn companionship with Edvard Munch, Paul Celan and LI Zenghui.
Eileen Chang once said, "Step down onto dust and a flower will bloom." Even if this is only a small as dust kind of bar, find yourself a bit freer in its midst. Beginning November, drop by HomeShop once a month for the DUST bar project.
请于11月4日中午之前预约,发邮件至lianxi@homeshop.org.cn或私信至@HomeShop新浪微博。
A film screening, poetry and spontaneous outbursts will accompany the ten whiskeys/cocktails/beers served to you from the HomeShop menu of favourites.
我们同时供应来自"家作 坊最爱名单"上的10不同威士忌 / 鸡 尾酒 / 啤酒。
Make your reservations before 12.00 pm, November 4th by sending an e-mail to lianxi@homeshop.org.cn or private message to @HomeShop on Sina Weibo.
时间 TIME:11月4 日,周五晚上 20:00- 你想回家的时候
  /  Friday, 4 November, from 20:00
地点 LOCATION:家作坊(北 京东城区交道口北二条8号)
电话 TELEPHONE:010-8403 0952
所有DUST bar的收 入将用于支持家作坊未来更丰富的活动。谢谢你的支持!
All proceeds from the DUST bar project go towards sustaining great future activities at HomeShop. Thank you for your support!