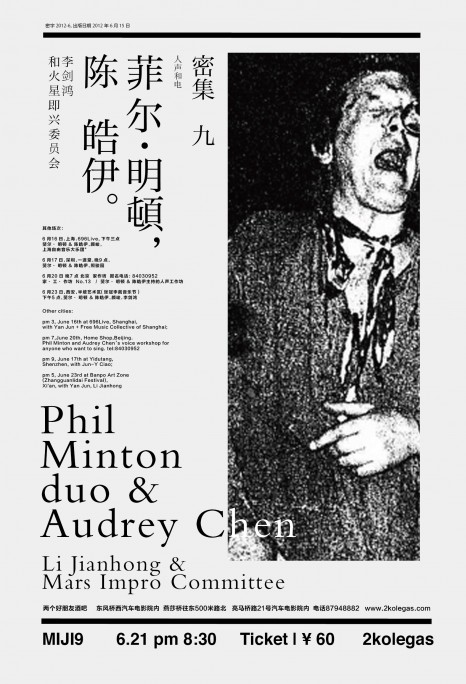 哈楼各位朋友,密集音乐会已经第9回了,很高兴经常在观众席看到熟悉的面孔,而舞台上总是焕然一新。
最近和《黑衣人3》的制作人谈了一下,给我们做了个植入广告。看到O探员讲外星话的时候,你也许已经意识到,这就是密集音乐的广告:这次我们迎来了人声即兴泰斗,菲尔明顿老爷爷,还有美籍华人陈皓伊,他们都是外星派来的。
北京站有一个工作坊(20号,家作坊,晚上7点开始),一个音乐会(21号,两个好朋友,晚上8点半开始),本地阵容也很强大,有李剑鸿和火星即兴委员会,请注意不要迟到,否则会被外星人抓去做实验。
工作坊请报名联系,支持家作坊的30元求帮忙~
除了北京,还有上海、深圳、西安,一个小巡演。请不吝扩散。
他们的中国巡演得到了英国大使馆文化教育处的资助,这是"艺述英国"活动的一部分。
Dear all:
Good to know you are still in town (despite of the PM 2.5 and traffic jam) and are stronger (that's why you are here, i guess).
We spent some money in Hollywood for advertise our Miji Concert. You will see it from the scene of "agent O speaking alien language" in Men in Black 3.
So we present Phil MINTON and Audrey CHEN, masters of voice improvisation. You will know how human body extending to a magical instrument.
And LI Jianhong, and MARS IMPRO COMMITTEE.
On June 20th at HomeShop there is a workshop for anyone who are interesting on voice, hold by Phil and Audrey. We start at 7:00 PM sharp.
On June 21st, at 2Kolegas. we start at 8:30 PM sharp.
Pls check attachment for details. Registration for the workshop is required, small pls help donation fee of 30 RMB.
Pls tell your friends in Shanghai, Shenzhen and Xi'an as well. It's a great news for new music lover. Pls make them happy.
—
家-工-作坊第13回由撒把芥末与家作坊组织。Home-Work-Shop No. 13 is organised by SUBjam and HomeShop.