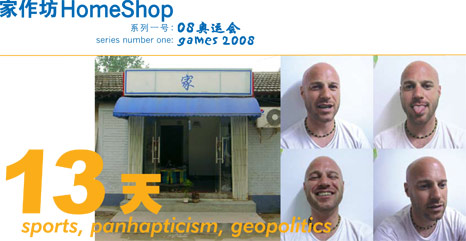 12 August 2008: HomeShop hosts a doorstep discussion with Sean Smith.



INTRODUCTION, SPORT AND MEDIA | 7'49
sport and media, aesthetics, politics, militarization of sport, temporality and sport, human body, affect, coming to China, the most significant sporting event in human history, trying a blog



BLOGGING | 16'30
on blogging, mediatized environment, "how fucking arrogant was that", teaching a class on Olympics history, Deleuze & Guattari, uneven writing, noise to signal, experience to output



SINGULARITY | 10'02
the last olympics, Chad Scoville, refuting a media singularity, citius altius fortius, pure body, "concomitant rise of a new China", opening ceremonies



SEMIOTIC | 9'17
9/11, Virilio's "information bomb", framing the event, weapons, semiotic warfare



PANOPTIC AND PANHAPTIC | 21'13
panoptic surveillance, panhaptic computer networks, striated and smooth spaces, models of human behaviour, control society, "One World, One Dream", spectacle of a new Beijing, Foucault's panopticon, open flows, "the population is just too big", broken protocol, spatial scalability, disciplinary space challenged by the speed of a flow, Deleuze & Guattari, navigation of an intelligent nomad, never a revolution, people like the system, the "communism of capitalism" (Virno), "I think China's pretty comfortable where it is right now"



CONTROL, GAPS, NOISES, CRACKS | 8'04
kòngzhì, Manuel deLanda's "A Thousand Years of Non-linear History", molecular to macro, hierarchies and meshworks, gaps and noises and cracks



HOMESHOP | 18'11
public space and private space, permeable membrane, blurring the boundaries, the binary, the third space, the interloper, "what are you trying to say with this?"


–––––
Sean Smith is a critical sport theorist living in Toronto. He is a doctoral candidate at the European Graduate School of Media and Communications and publishes a blog titled sportsBabel, which critically examines the aesthetics, politics and poetics of the sportocracy at the intersections between material and immaterial.