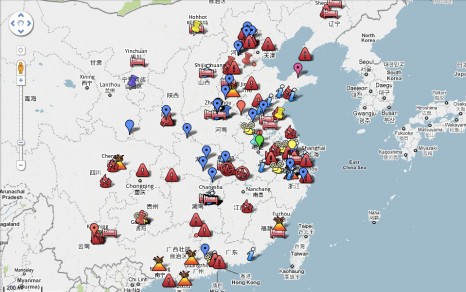 The 'Blood Real Estate Map' which sparked huge interest online in the last months came to my knowledge in the real space of my living room. It's kind of messy here these days, as preparations to move out of the small grounds at Xiaojingchang are underway for a lateral shift towards Beixinqiao, but a friend stopped by one evening with the kind of hushed urgency of a very important favour to ask. She was asked by a wishing to remain anonymous contact of hers to help translate a response text about his initiative documenting violent incidents linked to forced demolition and eviction. She needed my help for the translating and proofreading, and so another late night at HomeShop rolled cultural exchange, an attempt to map the current condition and maybe a little bit of exaggerated or not ballsy-ness (you have to keep quiet about this, he's at a lot of risk and we don't know what may happen) all into one.
The Blood Real Estate project, which was launched at the beginning of October, consists of two Google maps:
the revised version [note: use proxy to access], which is edited by the founder and shows only verified cases, and an open version [note: use proxy to access] that anyone can add to or edit. Little volcanoes represent sites where people were evicted violently, with water canons or Molotov cocktails.  Beds indicate incidents that resulted in at least one death. [France 24]
The map maker felt a personal response to foreign media was necessary because of all the publicity generated by his work, and while proofreading his text I was surprised to find such an emotional personal declaration to clarify an action of anonymous digital tracking (though the wiki-version feels much more dramatic). The calm reflection he claims results from this project sounds more spiritual than practical, more self-intuited than strategically outlined. Not that anyone has any answers. Blow-up is blow-up, whether it is someone's home, publicity or real and imminent threat.
Below is the full version of his text "Believe in Tomorrow", first published in an edited version at France 24 International News:
《黑客帝国》Matrix系列是我最喜欢的电影。从第一集看到最后,原来很简单的正邪对抗,慢慢演变成一个复杂的迷宫。我们渐渐分不清到底谁来自Matrix,而Zion里的人类是否就不是计算机的创造。而我们生活的这个现实世界,就像一个复杂的迷宫。

中国是世界上发展最快的国家之一。这种变化不仅仅是物质上的,也包括我们的法律体系和民众的权利观念。三十年前,绝大部分中国人都认同国家利益、集体利益 高于个人利益的观念。在我小时候,曾经有个叫赖宁的14岁少年,因为救森林大火而遇难。因为把国家财产看得比自己的生命更重要,他被当作英雄来教育每一个 孩子。

现在,大部分人可能不再认为国家财产比生命更重要了。但是私有财产神圣不可侵犯的句子即便已经写入中国的宪法,是否也写进了每一位国民的心里,却还不一 定。当符合大部分人利益的发展与少数人的权利发生冲突的时候,究竟该如何选择?人们恐怕还没有形成普遍的共识。9月份在江西宜黄县发生了那起全国关注的强 拆自焚案,这个县的官员受到媒体和公众的一致谴责,并且最终被撤职。但是,这个县的居民心态却很复杂。有很多当地居民认为被撤职的官员很冤枉,而这起自焚 案对当地的发展带来损害。这件事让我反问我自己,如果有个人为了维护自己神圣不可侵犯的权利,而影响了我的利益,我还会因为他的权利被严重侵犯而打抱不平 吗?

血房地图在10月8日发布,到现在将近一个月。10月20日,新华社对血房地图进行了第一次报道,在之后的一周内,有几十家中国媒体报道血房地图,或者发 表评论。到今天,在Google上搜索"血房地图",可以得到164万个结果。而根据百度的搜索量统计,中国网民对血房地图的搜索热情甚至短暂地超过了李 宇春。

为什么会这样?我想,大概是因为有太多太多的中国人,和我一样,希望能够做些什么,来改变这一切。

当人们第一眼看到血房地图的时候,会是一个非常感性的状态,愤怒、悲伤、震撼,或者,要为自己辩护,说,这不是我的错。这些反应都很正常。长久以来积累的愤怒,太需要找到一个发泄的出口了。

而我每天盯着这张地图,在阅读那么多暴力拆迁的新闻以后,慢慢的,就不会那么情绪化了。愤怒过后,做这份地图给了我这个机会冷静下来思考其中的问题。

血房的产生是一个极其复杂的系统性问题,向某些群体发泄愤怒的简单化思维固然很痛快,却无助于血房的终结。

我们总是习惯于将某些社会问题的责任,推到一小部分人身上。或者,是互相推卸责任。每个人都倾向于认为自己是无辜的,责任应该由XX来承担。短时间内,如 果我们成功地找到那些看似应当承担责任的少数人,这样的办法似乎很有效。但是这样真的解决根本问题了吗?如果一个社区或者一个村镇的大部分人仍然认为多数 人的利益可以凌驾于少数人的权利之上,那么今天这批施暴者被赶走,明天,另外一些人仍然会用别的什么办法来实现"多数人的利益"。

最近我读到法国《世界报》Le Monde 关于血房地图的一篇报道,在这篇文章后面,一些法国读者同样表达了他们对暴力拆迁的愤怒。有一位读者说,我们怎么能同这样的国家做生意,我们应当抵制他们 的产品。我很想对他说,亲爱的兄弟,我理解你的愤怒,可是你的方法恐怕会让事情更糟糕。要知道,没有哪个时代像现在这样把人类联系的如此紧密,当一群人反 对另一群人时,只有喜欢利用仇恨的政客高兴,付出代价的总是无辜的普通人。

曾经有记者问我,你这么做是在揭政府的伤疤,你不担心吗?我说,这不是政府的伤疤,这是中国的伤口,正在流血的伤口。

我不相信仇恨能够帮助我们愈合"血房"这个伤口。无论这种仇恨,指向的对象是拆迁队、开发商还是政府。

我相信爱和宽容,我相信公正、透明、法治并且拒绝遗忘的力量。我相信明天。

立法者能否审慎的制定法律、中央政府能否仔细评估相关政策的合理性与可行性,基层政府能否真正去问责相应的官员,杀人者能否真正的得到公正的审判,消费者不去买,开发商不去建。只有所有人团结起来,做好自己的责任,这件事才有实现的可能性。

我知道这很难,我不是个小孩子。但是除此之外,没有特效药。我们都想一招致敌,然而没有那样的好事。我们只能缓慢并且坚定的往前走,这是我所知道最有效率的方法。放下仇恨,相互宽容,承担责任,拒绝遗忘。

如果有一天,这些血房能够成为供后人参观的遗址,让后代记住我们这一代人为之付出的血泪,中国才真正的和谐而伟大。

我们生活在一个那么纷繁芜杂的时代里,什么都会很快过去。血房地图也会这样。只不过它已经在那里,就像一个顽强的生命自由生长。只要有人想起,去看一眼,它还是会在那里。

或许像一座长满荒草的墓碑
但是仍然,在那里。

The Matrix series are my favourite movies. From the first film until the very end, it shows what would be a simple antagonism between good and evil gradually becoming a complicated labyrinth. Little by little we become unable to distinguish who comes from the Matrix, or even whether or not the people of Zion are not just computed creations. Indeed, our life in this real world really looks like a complicated labyrinth.

China is one of the world's fastest developing countries. This change is not only a material one, but involves all of our bodies of law and people's concepts of rights. Thirty years ago, the majority of Chinese people identified the benefits of collectivity and the nation over that of personal interest. When I was young, there was a fourteen year old teenager called LAI Ning who died while trying to put out a forest fire. Because he placed the nation's property over his own life, he became the hero about which every child was educated.

Nowadays, the majority no longer considers the nation's property more important then their own lives. Although the phrase "holy and inviolable private property" has already been written into the Chinese constitution, whether or not it has been written into the mind of each of its citizens is uncertain. When the interests of the majority come into conflict with the rights of a minority, exactly how is one to make a choice? People fear that a general consensus still has not taken shape. In September in Jiangxi Province, Yihuang County, a self-immolation in reaction to a forced demolition captured the entire country's attention. The county official received unanimous censure from the media and the public, and at the end he was dismissed from his post. However, the mentality of the residents of this county is very complex; many local residents considered the official's dismissal unproductive and the self-immolation damaging to local development. In regards to this incident, I question myself and whether or not I would be able to help a victim of justice if my own personal interests were affected because he was safeguarding his "holy and inviolable private property" rights.

The "Blood Real Estate Map" was published on the 8th of October. Since then a month has gone by. On October 20th, Xinhua Agency press wrote its first report about the Blood Real Estate Map, and within one week, more than ten other Chinese press also reported it or wrote commentary. Today, a Google search for "Blood Real Estate Map" will gain 1,640,000 results. Based upon Baidu's search results, Chinese internet users have for a period shown even more interest in the Blood Real Estate Map than LI Yuchun (a famous Chinese female pop singer).

Why is this so? I think, there are many, many Chinese people, like me, that hope something can be done to change this situation.

When people first see the Blood Real Estate Map, there are intense states of emotion: rage, sorrow, shock or self defense—saying that this is not my fault. These reactions are completely normal. Long accumulated anger has a great need to find an outlet to release itself.

Everyday I stare at this map, and after reading so much news about violent demolitions and relocations, slowly I become less emotional. After the rage passed, creating this map gave me the opportunity to calm down and reflect upon the problems amidst.

The emergence of violence over demolitions and relocations is an extremely complicated and systemic problem, and while the pain of certain groups who vent their anger is undoubted, such thought is oversimplified and does not help to end bloody real estate.

We are used to speaking about problems of social responsibility in terms that push such responsibility onto the shoulders of a small group of persons or whereby responsibility is mutually shirked. Each of us is inclined towards thinking of themselves as innocent, that responsibility should be taken up by some other person. So if we succeed in the short term to find the small number of people whom we think should take responsibility, we feel our methods are efficient. But does this solve the essence of the problem? If the majority within a community or village still believes that the benefits of the majority can override the rights of a minority of the people, then this group of violence-makers could be expelled immediately, but tomorrow, another group of people would come up with yet another means to realize "the benefit of the majority".

Recently I read an article from French Le Monde about the Blood Real Estate Map, and at the end of this article a few French readers similarly expressed their anger towards China's demolition and eviction violence. One reader asked, "How can we make business which this kind of country? We should boycott their products." I really would like to say to him, "Dear brother, I understand your indignation, but I'm afraid this kind of anger could make the situation even more of a mess." It is important to know that there is no other time period like this one in which human connections are so tightly bound such that when a group of people opposes another group of people, it is only hateful, profit-loving politicians who are happy; innocent, ordinary people always pay the price.

There was once a journalist who asked me, "Revealing the government's scars like this, you're not worried?" "This is not the government's scar," I said. "It is China's bleeding wound."

I don't believe hatred can help heal the wounds of Blood Real Estate. No matter what kind of hate we have in facing a demolition team, this business development is still from the State.

I believe in love and tolerance, I believe in justice, transparency and rule by law, and moreover I believe in the power of refusing to forget. I believe in tomorrow.

Whether or not legislators are cautious in drafting laws, whether or not the central government will be attentive to evaluate the rationality and feasibility of policy, whether or not the local government will truly ask relevant local officials to take responsibility at base level, whether or not a homicide can receive an impartial legal case, consumers can refuse to buy and developers refuse to build. This event can only be realised if people rally together and answer to obligation.

I know this is difficult; I am not a child. But except for this there is no other effective cure. We are all looking for the enemy, but there is no such good thing. We can only go ahead firmly and slowly. This is the most efficient means of all I know. Set aside hatred, be mutually tolerant, assume responsibility and refuse to forget.

If one day these bloody homes become ruins for later generations to visit, let the descendants remember what price in blood and tears this generation has had to pay, and only then can China become truly harmonious and great.

We live in such a disordered and complicated era, everything will go by very quickly. The Blood Real Estate Map will, too. But it is already there, like a tenacious vital and free growth. As long as someone thinks of it and takes a glimpse, it will remain there.

Or it resembles a gravestone covered with weeds, but still, it is there.
——
You can follow the work of the Blood Real Estate Map via Twitter (@xuefangditu) or Tengxun (@xuefangditu).