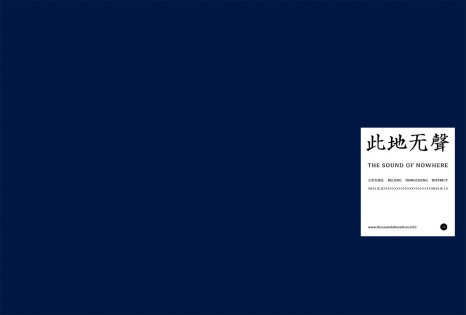 2011年6月5日(周日)至6月12日(周日)
Sunday, 5 June 2011 – Sunday, 12 June 2011
"此地无声"计划启动日
6月5日(周日),下午14点
声音地图免费领取日@家作坊
当日提供导游数名
地点:东城区交道口北二条8号
OPENING: Sunday, June 5th, from 14.00
featuring free distribution of project sound map and guides at HomeShop, guided tour of project sites and hidden ephemera
location:Dongcheng District, Jiaodaokou Beiertiao 8
参加艺术家 Participating Artists:打油 Gerard ALTAIÓ(西班牙 ES)、Niko de LAFAYE(法 FR)、Michael EDDY(加拿大 CA)、Alfred HARTH(德 DE)、何意达 HE Yida(中国 CN)、何颖雅 Elaine W. HO(香港/美国 HK/USA)、冯昊 FENG Hao(中国 CN)、奥拉夫·郝赫尔茨 Olaf HOCHHERZ(德 DE)、Elke MARHÖFER(德 DE)、梅志勇 MEI Zhiyong(中国 CN)、盛洁 Gogo J(中国 CN)、苏文祥 SU Wenxiang(中国 CN)、陶轶 TAO Yi(中国 CN)、徐坦 XU Tan(中国 CN)、徐喆 XU Zhe(中国 CN)、颜骏 YAN Jun(中国 CN)、殷漪 YIN Yi(中国 CN)、照骏园 CIAO Jun-y(中国 CN)、组织 ZUZHI(中国 CN)
《此地无声》是一个将要发在北京东城区的艺术活动。所有参与的艺术家,声音艺术家及声音工作者们将以"声音"作为主题并且运用"声音"作为材料完成各自的 作品。作品呈现的方式将为装置、行为与音乐表演等等。作品放置的地点是剧场、艺术空间以及一些公共空间,活动持续时间为一周。在此期间还会发生一些相关讲 座与工作坊等项目。活动组织方会制作一份地图,上面会标示出所有艺术作品放置的地点。这些作品的分布将以国子监为中心,步行20分钟即可到达的范围内。
这个艺术项目希望通过建立一种与公共交流的方式,使艺术家们关注艺术作品与公共空间之间的关系。通过"声音",这个被我们日常所忽视的感知方式,找到隐藏在人们感知深处的听觉及意识的共鸣;同时也希望通过这种互动参与的方式、通过寻找与发现,让人们关心生活的周遭。
The Sound of Nowhere is an art project to be embedded deep in the recesses of Dongcheng District, scattered in the vicinities of Andingmen and Gulou. This is an experiment with sound and geography, whereby artists and 'sound laborers' will for the duration of one week present workshops, lectures, installations and performances for various locations on the map—from art spaces, a theatre, restaurants to a hair salon. The projects will be traceable from a printed map that guides participants for short walks within a 20 minute radius to find and experience these works as interventions and exchanges with the surrounding public space. By working from a conceptual recognition of sound, we seek to locate and initiate certain resonances between this often overlooked sense and its relation to the noise of our daily urban environs.
6月5日至6月12日
具体活动与时间安排
请持续关注:www.soundofnowhere.info
5-12 June 2011
A full programme of all activities will be posted as it is available. Please stay tuned at www.soundofnowhere.info for further information.