image of small turtle waiting while swimming tool is made level using Samuel KALIKA's handy iPhone level application.
失物品 012:小乌龟(壳差不多9厘米长,头和尾巴伸出来的时候差不多14厘米)
发生失踪时间:2011年08月24日, 下午3点52分
地点:交道口北二条8号,家作坊乌龟游泳池
Lost & Found Object No. 012: small turtle (shell approximately 9 cm long, with appendages protruding approximately 14 cm)
Last seen: 24 August 2011, 15.52
Location: HomeShop turtle swimming pool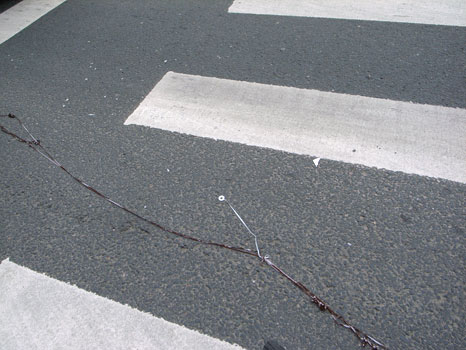 失物品 013:被拆散的录音磁带
时间:2011年08月17日, 下午4点半
地点:三里屯北路/东直门外十字路口,靠近西南角
Lost & Found Object No. 013: unraveled cassette tape
Date & Time: 17 August 2011, 16.30
Location: southwest corner of the intersection between Sanlitun North Road and Dongzhimen Outer Street
—–
如果您要收回家作坊失物招领处的任何物品,或者有关于小乌龟的信息,请跟我们联系。Please contact HomeShop if you would like to reclaim any lost & found item or have information regarding the turtle.