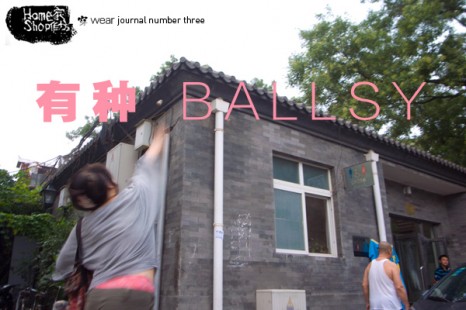 有种者常有种,然说有种者实非有种是名有种,故上下求索,觅而不得。去年夏夜,一场自发讨论播下的种子在后来的一段时间内悄然发芽,各种解读继而破土而出。暗示。当时的肺腑之言我们没有忘记,并在今天找到了面对这个问题的勇气:夫有种者,宁有种乎?
这种勇气本身影射着某种集体性,或在聚集与集中过程中滚雪球般的集体构建,"有种"是对于运动状态的描摹,意指自我在形成过程中的潜在能动,而非目标,即阿纲本的"潜力(之所以为力)之力"。 它以某混淆者的方式出场,对理解进行阻挠。与简单的自我满足相比,我们应将这种并置设想为一种在聚合中对内部与外部不做明显划分的共在(being-with, Mitsein)。因此"有种"必须是自我之概念形成与自我游离的重叠——即外在于内在中。我们是运动中的身体,并在运动中向身体运动,寻找着作为惊喜的不同与自由。就让我们的自治如是吧,即便这种自治是从某成文系统之中的绽出。暗示,惊喜。
至此特邀请你为独立杂志《穿》第三期提供稿件。任何围绕着"有种"这个主题的创作均可,形式不限。如果有兴趣参与,请于11月30日前向家作坊提交一份300字左右的稿件描述,其中包括最终稿件的长度及范围(比如媒介、与"有种"的关系等)。《穿》杂志编辑部将给予最终入选的提案回复及建议。最终截稿日期为2011年12月30日。
了解更多《穿》杂志的信息,请查看这份PDF文件。 作为北京胡同中的一个项目空间而运作的家作坊经过反思,决定《穿》杂志将保持对本地的高度重视。 因着相似的实践、斗争和方法,"本地"的概念扩大至更广阔的范围,即通过链接、社区和共识审视日常生活和微型地域。我们期待您的消息。
Our ballsiness is a long time in the making. The crux of such a statement is cruxless, one thousand layers of pancake and complexity pickings through and through. One time last last summer, a spontaneous dialogue of seed erupted in quick, excited interpretation. Innuendos. But ballsiness sticks to the gut, and now we're finally brave enough to say let's try and put it all together.
Such bravery connotes a certain form of collectivity, as in concentrations or assemblages—the snowball rolling—but it is perhaps the making collective that comes to greater light here, as our call to "ballsy" is moreso a tracing of movement rather than a static form. Ballsy describes a potentiality in the same moment that it moves towards, not an ends but the constitution of itself as such, Agamben's "potenza as potenza". This occurs as a frustrating 'ambiguitor' of sorts. No mere self-satisfaction, we should consider the juxtaposition as a being-with that defines neither an interior nor an exterior in its coming together. Ballsy can only be the coincidence of the conceptual formation of the self along with its own departure—as in going beyond, extrinsically intrinsic. We are moving bodies, moving towards bodies and our own without end, finding difference and/or freedom as surprise. Let our autonomy then be as such, even in acknowledgement of those codified systems, still gifted as ecstasis. Innuendos. Surprise.
You are invited to submit a proposal for a contribution to the third issue of the independent journal wear. A broad spectrum of publishable formats are welcome in consideration of this issue's heading theme: BALLSY. If you are interested to contribute, please contact HomeShop by 10 December with a 300-word description of your ideas, including the length and scope (e.g., medium, relation to the theme, etc.) of your proposed contribution. Guidelines for final submissions will be determined by the wear editors after selection. Final submission deadline is 22 January 2011.
For more information about wear journal, please download this PDF document. wear maintains a strong emphasis on the local, stemming from HomeShop's reflections and work as a project space in the hutongs of Beijing. These considerations of the local extend geography to a larger scale, whereby parallel practices, struggles and approaches examine the daily and the micro-scale, through links, communities and common ground. We look forward to hearing from you.