Photographer 王久良 WANG Jiuliang's mapping of landfills that encircle Beijing.
location: "中国箱包之都 China Luggage & Bag Capital"
河北省保定市白沟工业城
Baigou Industrial City, Baoding, Hebei Province
date: 5-6 January 2012
It is said that Beijingers' vicinity to the imperial seat (both past and, ahem…present) means that they don't know much about how to really do anything, as serving the government—or at least falling heavily shadowed in its midst—means that you do not really have to make your own living, nor can you cheat too far astray from the one that's been allotted to you (think, in contrast, of those wild rebel producers in Guangdong [2]). The Beijinger's belly is big, it's got swagger like that and stands for a certain slow pace of life unlike the typical notion of an urban persona. So where we had previously held some romantic vision of an action-packed urban exploration, venturing out again this winter we realise that such adventure has less to do with sleek and agile black-clad intrigue than a questioning of what the making of urbanity really means here in Beijing, the capital city of not-knowing-how-to-do-much.

The second floor workspace of 红海棠皮具有限公司 Honghaitang Leather Goods Company, Ltd.

A visit to a friend of QU's luggage and bag factory was compelled by curiosity and surprise, for such industrial production in Beijing is rare, but what we thought would be the outskirts of Beijing turned out to be Hebei province, surrounding Beijing on all sides like a seventh or eighth ring, traceable by desolate farmlands, landfills and, yes… production. 白沟镇 Baigou village, approximately three and a half hours from HomeShop by bus or subway and long-distance coach, once fell under the jurisdiction of 高碑店市 Gaobeidian city (not to be confused with the 高碑店 Gaobeidian of fake antique furniture fame in eastern Beijing), but for some unknown reason has in latter years been re-territorialised as part of the 保定市 Baoding municipality, a city historically well-known for being a site of minor victory over the Japanese during the occupation in the 30s. Baigou was in fact once called 白狗, but this unflattering name (meaning "white dog") was later changed to 白沟, and from the trenches of this small village farmers were engaged as early as the 70s in 副业 sideline work in bag manufacturing as part of the communists' organising of 生产队 production units across the country.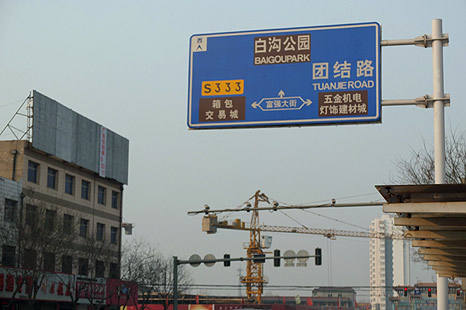 LIU Lei's mother can still remember the time when her family grew vegetables on their land, but she says that by the time of the reform and opening up at the end of the decade many farms already sat fallow as the shift from farmer to manufacturer grew, like the design of fashionable bags, more and more intense. There is perhaps a mutual feeling of 没办法 for those farmers who leave their land to make better fortunes as businessmen and migrant workers ("如果没土地了,怎么办?开三轮,开小商店,你什么能力都没有只能打工咯,没办法 Without land, what are you supposed to do? Drive a motor-taxi, open a small shop, or if you don't have any skills whatsoever you can only be a laborer, what other way is there?"), and those who are forcibly evicted by developers with petty compensation ("一千一亩就等于抢走的 1,000 yuan per mu is basically like being robbed"), but at the end of a long description of a violent protest incident in Baoding last summer, where around 1,000 farmers occupied a highway in protest of unfair compensation for their land ("你能怎么地?上访?你走不出保定,走不出河北,更到不了北京。 What are you gonna do? Make appeals to authorities? You won't be able to get past Baoding [municipality], you won't get to Hebei [provincial authoritiy], and don't even think about Beijing."), LIU Lei's father cannot help but smile embarrassedly that their family's luggage and bag factory has benefited from the state-directed urbanisation of Baigou. Family-run production units-cum-full-fledged businesses grew steadily in the 80s, and LIU Lei's family joined mid-decade with her mother and father making bags themselves and other relatives in the family traveling as far as Sichuan to sell their ready-made stock. The conglomerated efforts of the families of Baigou (majority Han Chinese with a large population of 回族 Hui minority peoples) began to attract tradesmen to the village itself, and the LIU family no longer had to travel; their bags sold quickly from the aluminum rack stands they set up in the village market.
With support from continued urban development initiatives like the 白沟新城经济社会发展居 Baigou New City Socio-Economic Development Bureau and the 保定白沟箱包产业生产力促进中心 Baoding Baigou Luggage and Bag Industry Productive Force Promotion Center, Baigou has risen to become Hebei province's only nationally supported and monitored economic zone, with factories like that of the LIU's producing around 1,000+ bags daily. Supported by the labour of between 70 and 100 employees from neighboring provinces like Henan and Gansu, the 2-story factory the LIU family built on land they purchased from a developer for approximately 100,000 yuan/mu (1/6 of an acre) has now been renovated with an additional floor of worker dormitories, and the price of the land has jumped to 4 or 500,000 yuan/mu. Whilst the real estate bubble is finally finding its friction in the mega-cities of Beijing or Shanghai, it is clear to LIU Lei's family that there is still a lot more room to grow in Baigou. Keen city-developer relationships keep the dust flying under the many cranes that hang over the landscape, and the influx of new residents and labourers from other areas pumps the village population from 100,000 to 4 or 500,000. 22 year-old LIU Lei's web savvy and English abilities give the Honghaitang company a whole new sphere of possibility, and supported by the government's sponsorship of half of their Alibaba membership fees, a single family in Baigou is able to place itself on an international map of production and consumption.

Honghaitang's showroom is located on the third floor of the second phase building of 白沟箱包交易城 Baigou Bags and Cases Trading Market
 Where geographers define urban construction as "the key mechanism of local state building" [3], LIU Lei's father says simply, "发展的意思就是盖一个楼 Development here just means building a building", and their factory is the most concrete evidence of it. But what we must consider here are the complex forces that push a "state-led urbanisation" into a very real dynamic with the local level, whether that be through the fist of 城管 chéngguăn bullying farmers from their land or local families joining together to purchase land instead of buying from 外地 wàidì developers. As such, territorial strategies occur both top-down and from the ground-up, "as much a tool of resistance as of dominance." [4]
No conclusions yet… to be continued.
城市探索与发现(第三期),是一通过短途漂移和旅行摸索城市化进程的持续性项目。有意参与未来小旅行者(提供路线或参与旅行均可),请联系lianxi[at]homeshop[dot]org[dot]cn.
This is urban exploration number three, part of what will be a continuing series of minor drifts and journeys into the making of the city. If you are interested to join future outings or have suggestions for one, please send a note of interest to lianxi[at]homeshop[dot]org[dot]cn.
——
[1]The retroactive numbering instated here places the previous activities of a visit to Jackson Hole, Beijing and the rePLACE Beijing project respectively as the first two urban explorations.
[2]As considered based upon north-south cultural differences, Cantonese identity and 公民意识 civil consciousness discussed during a dialogue on Cantonese culture and media, October 2011.
http://www.homeshopbeijing.org/blog/wp-content/uploads/2012/01/GZmeitiwenhua.mp3

[3]Hsing, You-tien. "Territoriality and Space Production in China". Cross-Currents, No. 1. December, 2011.
[4]ibid.
NOTE: All facts reported in this text are not verified and come strictly from narratives told by the LIU family during the Baigou urban exploration. For more academically reliable information regarding the transformation of the urban environment in China, we can recommend the first issue of Cross-Currents e-journal, or please explore on your own.