The following is cross-posted from Petra JOHNSON's original notes at 小卖部 Kiosk, first published on 9 April 2012. It is the beginning of a choreographic dialogue involving walking, gardening and "getting to know" along two parallel routes in Cologne and Beijing. You can view her route in Beijing here.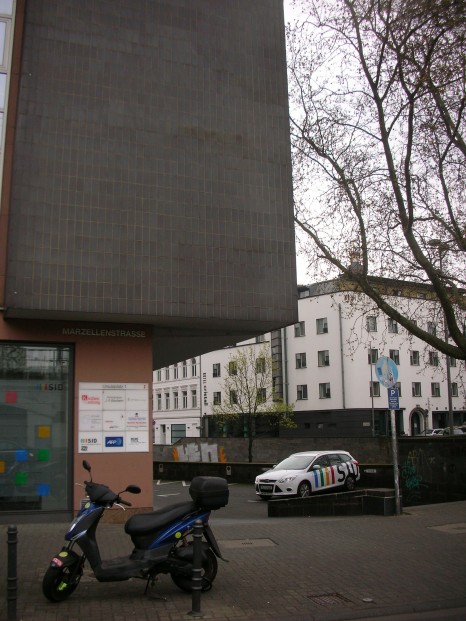 When you walk 600 strides from the North Exit of the central World Heritage Centre in both Cologne and Beijing you will find yourself at the locations shown below: The Cologne route leads diagonally over the forecourt of the main train station to the taxi rank, then it heads toward a ring road and there turns right into Marzellenstrasse. After 600 strides, you are just before a small enclave called Ursulaplatz on the opposite side of the road.
Ursulaplatz shelters one tree that hovers over a fast road and is hovered over by a railway line. The predominant sound is the droning of cars passing out of sight below, occasionally relieved by a passing train passing above.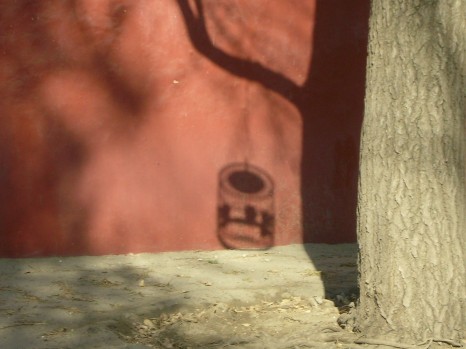 In Beijing the route proceeds from the exit at the Northern End of the Imperial Palace just opposite Jinshang Park and turns right into the pathway along the moat. At the first junction it turns left into Jingshan West Street and runs through the small stretch of park outside the wall of Jingshan Park. Early in the morning, the predominant sound here is that of birds singing.
Elderly men have brought their pet birds contained in beautiful wooden cages for a bit if fresh air. The cages are hung on the trees and whilst the men chat amongst each other sitting on benches on the other side of the path, the birds sing in the privacy of trees, each sitting on a perch in their cage.
Last night (April, 10th) E and I compared notes. How many strides did it take to walk the respective routes? In Cologne, the route had been stretched just before I left in order to accommodate Mahira's request to wind itself around the new mosque and the Jewish Community Centre, in Beijing the route has remained the same. I was concerned that the routes no longer matched in terms of length. Elaine had walked the Beijing route the previous night and counted 8093 strides, the Cologne route had taken me 8040 strides. There is a saying by the German writer Duerrenmatt: 'The more careful you plan, the more opportunity you give to serendipity." He clearly has a point. What rational explanation lies behind this surprising and pleasant discovery? I too had walked the route in Beijing and counted my strides. A quick mathematical calculation established that the ratio between our strides is 1:4.
So what seems long becomes short and the short becomes long yet everything is as it should be – as long as the planning is comprehensive and thorough. I had always thought that planning was there to prevent surprises, it turns out planning enables them.