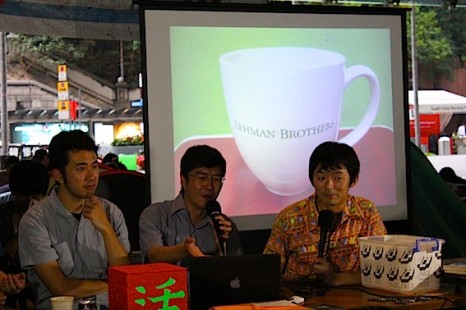 For the next meeting of Happy Friends Reading Club we will shift to an alternative procedure, discussing a number of papers collected at the CONFERENCE ON MODES OF ACTIVISM AND ENGAGEMENT IN THE CHINESE PUBLIC SPHERE (26-27 APRIL 2012 at the National University of Singapore). 
Although the 5 texts chosen from the 5 panels at the conference will be made available to those interested, we will ask several among the Happy Friends to read carefully with a view to presenting the basic points of the papers at the meeting. This method is chosen to get a cross-section of the discussions at the conference, and perhaps of some sort of "current state" of activist practices in China. 
There will also be a brief discussion reviewing the art and activist positions at East Asia Multitudes Meeting held at Occupy Central in Hong Kong, where two members of HomeShop had been present.
The meeting is scheduled for 6pm on May 27th, 2012 at HomeShop.