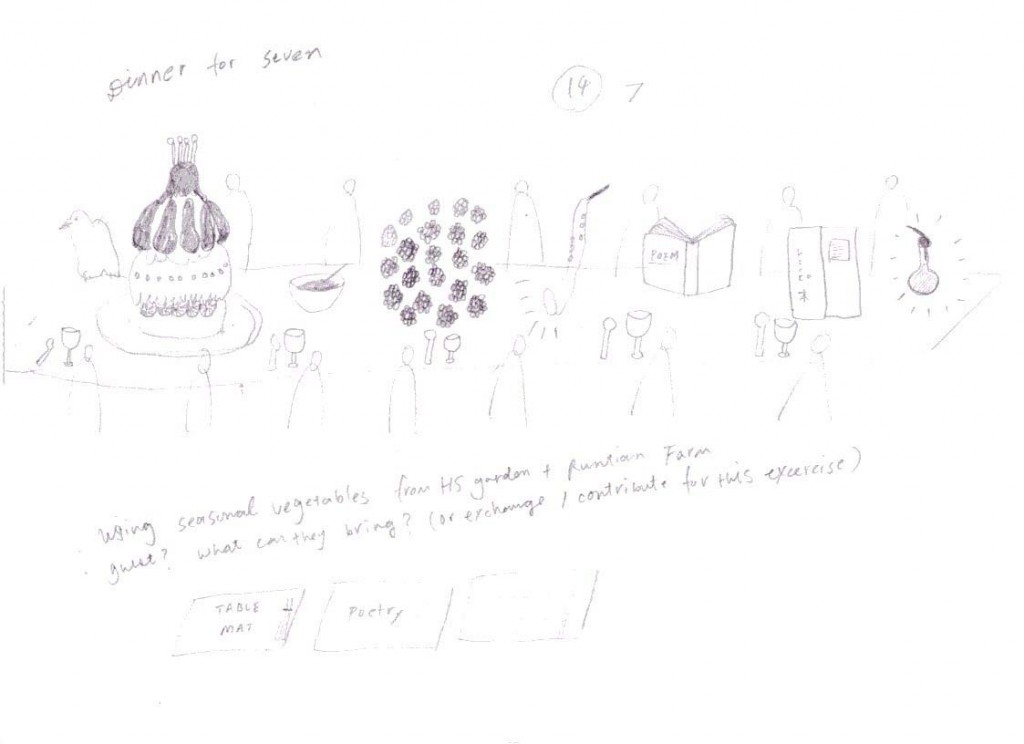 日历餐厅 Calendar Restaurant__ 七夕餐  7-threaded dinner
日期/时间 date__ 8月24日周五,晚上6点 | Friday, 24 August, 18:00
地点 location__ 家作坊 HomeShop
要预约 Reservation required
August 23rd is the 処暑 (Chǔshǔ) in 24 solar terms of Chinese calendar and known as the summer heat is decline. In solar calendar, it is July 7th; the day of well-known myth in China and Eastern Asian Country about the lover: princess and cow keeper could meet up on the sky with milky way only on this day. Calendar Restaurant invites 7 chefs that provide an evening for the 7 guests. We will explore our experience of Love (human kinds to romantic to friendship) with 7 dishes with sense of taste (Umami, Sour, Afrodiziack, Bitter, Salty, Hot, Sweet), 7 feelings, 7 music and 7 colors. Seasonal vegetables are also participating from HomeShop rooftop garden and Runtian Farm.
参 加厨师 Participating chefs__ 老羊 Lao Yang, 高灵 Gao Ling, 刘畅 Liu Chang, 马艾迪 Michael Eddy, Fotini Lazaridou-Hatzigoga, Pilar Escuder, Petra Johnson
诗歌朗诵 Poetry reading__ 王尘尘 Wang Chen Chen
组织 日历餐厅 Calendar Restaurant by__ 植村絵美 Emi UEMURA and 方丹敏 Barbara FANG

支持 Supported by__ 家作坊 HomeShop, 潤田农园 Runtian Farm
价格 cost__  50元
日历餐厅介绍 About Calendar Restaurant__
日 历餐 厅是在种植季节期间每月开放一次的餐厅。它始于2010年7月至10月的一个艺术项目。自 2011年种植季节起,我们希望在日常生活和植物生长的时间表(这也是日历的来历)下探索这种实践。在日历餐厅,消费者变成厨师, 从我们的田园中采摘新鲜蔬菜, 并分享各自的经验。一起做好饭后, 大家围坐在一起,还会讨论一些更复杂的话题:健康、食品安全、社会、政治、天 气、中医、老北京烹饪、食物设计和储存-当然,这些看上去严肃的讨论并不会影响我们品尝美味。2011年我们的种植场地由小毛驴农场赞助,日历餐厅由家作 坊支持、2012年我们的种植场地由 潤田農園赞助,日历餐厅由家作坊支持。
 

Calendar Restaurant is a restaurant that opens once every month during the course of the farming season. It was initiated within the context of an art project from July to October, 2010. When farming started in 2011, we simply wanted to explore this practice within the framework of daily life and timeline of vegetables' growth (that is where the calendar originates). In this restaurant, customers become cooks, working with fresh vegetables from our garden and sharing stories of their experiences. Once food is ready we sit together at one big table to discuss complex food issues: health, food safety, social systems, politics, weather, Chinese medicine, old Beijing cooking, food design and preservation ― but not to the point of making the taste muddy! This year our farm plot is supported by Runtian Farm and the restaurant is supported by HomeShop.
______
"七线餐"由家作坊组办,是家作坊和"与我行走"项目合作的第二个活动。 "与我同行"由德国艺术家Petra JOHNSON发起,将于2012-2013年期间在科隆和北京同时进行。"与我行走"项目得到北京德国文化中心·歌德学院(中国)和德国科隆市支持。
Organized by HomeShop, 7-threaded dinner is the second installment in a cooperation between HomeShop and Walk with Me, a project initiated by Petra JOHNSON, to be realized throughout 2012 and 2013, between Cologne and Beijing. Walk with Me is kindly supported by the Goethe-Institut Beijing and the city of Cologne.