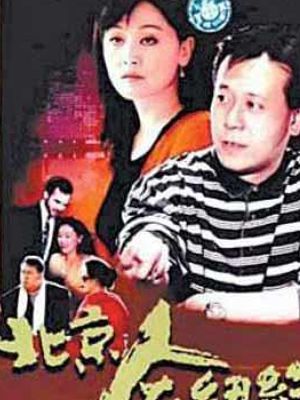 "如果你爱他,就把他送到纽约去,因为那里是天堂;如果你恨他,就把他送到纽约去,因为那里是地狱。"
"If you love her, send her to New York, for there it is heaven; if you hate her, send her to New York, for there it is hell."
地点 location:家作坊 HomeShop
时间 time:2013年1月5日,星期六,全天,中午开始  Saturday, 5 January 2013, from 12 noon all day
家作坊邀请你沉浸在一整天电视剧的节日综合症中。我们将于一月五号星期六,实现马拉松式的观看完整部九十年代电视剧《北京人在纽约》。这个著名的肥皂剧讲述一位北京音乐家和他的妻子在纽约的磨练和患难编年史。
 电视剧取材于1991年出版的曹桂林的同名小说。在小说畅销和北京晚报的连载后1993年中央电视开始制作由导演郑晓龙、冯小刚和明星姜文出演的电视剧《北京人在纽约》,它是第一部在美国拍摄的中国电视剧。
影片引发关于中国人背井离乡在纽约这样的新环境的一系列大讨论。不可避免地讨论到文化交流,权力关系和美国梦。我们中的许多人都是外籍人士,它提供给我们关于反向想象的在北京的经验。
我们将在中十二点开始,连续播放整个25集。外加供应全天的毯子和(加咸黄油的)爆米花。欢迎各位带来各种小吃和啤酒一起分享。
HomeShop invites to you to indulge in a day of post-holiday TV watching. We will spend Saturday, January 5, attempting a marathon viewing of the complete run of 90s television series "A Beijinger in New York" (北京人在纽约). This well-known soap opera (or "opera soup," as our friend Pilar says) chronicles the trials and tribulations of a Beijing musician and his wife after they move to New York City. 
 The soap opera is based on a book of the same name by CAO Guilin (曹桂林 Glen CAO) published in 1991. After the success of the book's sales and subsequent serialization in the Beijing Evening News, CCTV began production of the television series in 1993.  Directed by ZHENG Xiaolong and FENG Xiaogang, and starring JIANG Wen, "A Beijinger in New York" was the first Chinese television series filmed in the United States. 
The TV series opens a larger discussion about leaving home and trying to "make it" in a new place as an image of New York as imagined by Chinese expats is revealed throughout the series. Inevitably discussions about cultural exchange, power relations, and the American Dream arise. Many of us are expats ourselves and the reverse imaginings provide a counterpoint to our own experiences in Beijing. Join us as we dissect constructions of other places. 
We will start screening around 12:00 p.m. and view all 25 episodes. Extra blankets and popcorn (salty with butter) will be provided all day. Feel free to bring snacks to share and/or beers to drink.