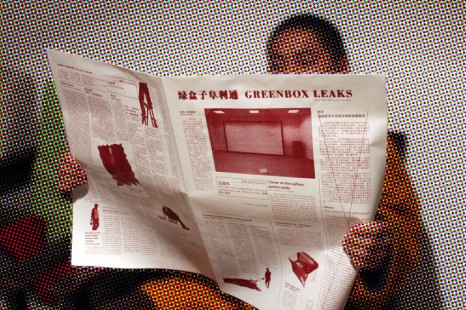 HomeShop recently participated in the exhibition Green Box - Remapping — The Space of Media Reality (organized by School of Intermedia Art of China Art Academy at Media City Research Center 11–29 January, 2013) with a just-in-time newspaper about the other works in the show, silkscreen-printed on-site in the exhibition space.
近期,家作坊参与了展览《绿盒子-重绘形貌-媒体现实的空间》(由中国美术学院媒体城市研究中心举办,于2013年1月11-29日展出),作品为一份关于本次展览中其他作品的即时报纸,在展览现场进行丝网印刷。
两年以来,家作坊通过报纸的形式对公共性与本地性的"内"与"外"进行持续研究,包括《黄边日报》与《北二条小报》。我们意在通过时效性媒介来发表一个具有复调空间的宣言。从时间与空间上来说,报纸的截稿时间给内容强加了一种特定的紧迫感。 
作为这些表演性新闻报道的延续,《绿盒子阜利通》将现身《绿盒子:重绘形貌-媒体现实的空间》群展,并展开探索。家作坊小分队会对其他参展者进行纪录、注解、批评,搜集大量数据、真相抑或流言,以及深入幕后的主观诠释,这些将以红墨印制,在开幕时供人取阅。在个别情况下,参展者可选择自我批判,而不是让作品任由《绿盒子阜利通》支配。最后,我们的社论不仅是指向自我的检视,渗入自身实践的诸多边界,而且是向普遍意义上的展览批评提出质询。
For the past two years, HomeShop has been investigating the ins and outs of publicness and locality through the form of newspapers, including The YellowSide Daily and Beiertiao Leaks. The intention has been to form a multi-vocal space of statement through a medium of urgency. The newspapers' deadline forces a certain immediacy of content, in both time and place.
Greenbox Leaks is a followup on these exercises in the performance of journalism, turned toward the exploration of the context of the group exhibition in which it will appear. A team dispatched from HomeShop will document, annotate and critique the contributions by all other participants in the show, gathering meta-data, truth & rumour, and subjective interpretation into a special behind-the-scenes critical feuilleton to be printed in red ink and available for the opening. In some cases, the other participants will be offered the choice to self-critique instead of having their work subjected to the treatment of Greenbox Leaks team. Finally, our editorial comprises a self-criticism that not only infiltrates the boundaries inherent to our own undertaking, but also problematizes all future criticisms around the exhibition as a whole.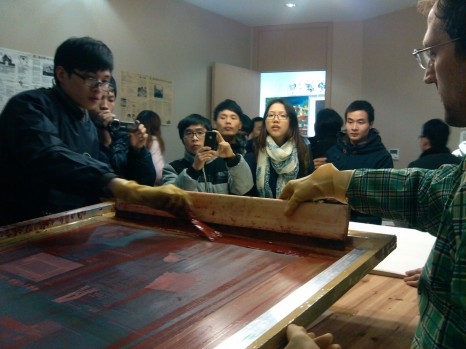 Printing past the deadline at the opening. 开幕之后的现场印刷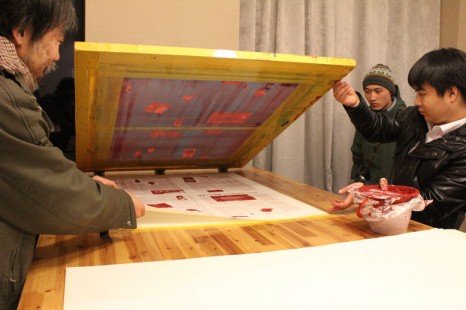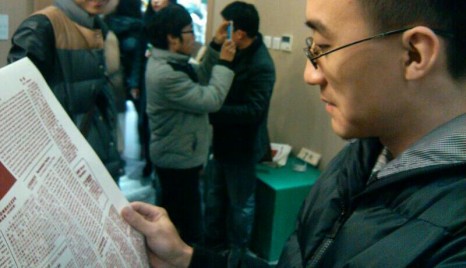 Fellow artist in Green Box, Liu Guoqiang, takes his criticism with admirable humour. 另一位参展艺术家刘国强带着崇拜式的幽默阅读关于他的作品的批评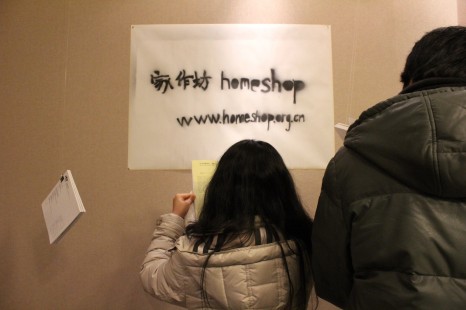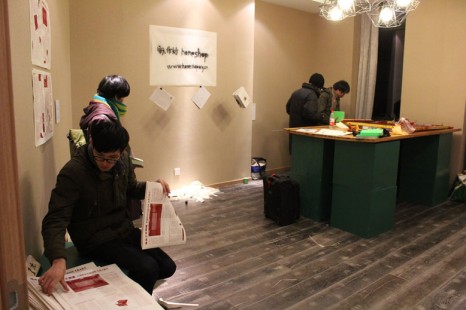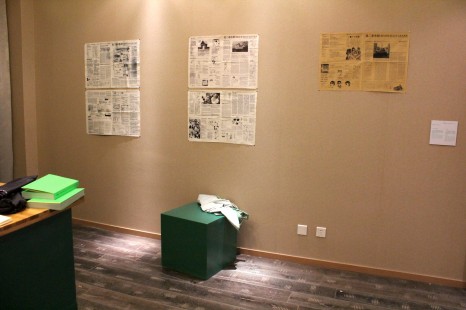 The presentation also included previous editions of Beiertiao Leaks, YellowSide Daily, and 《穿》Wear journals (now available in Hangzhou while supplies last!). 展览的作品也包括前期的《北二条小报》、《黄边日报》和《穿》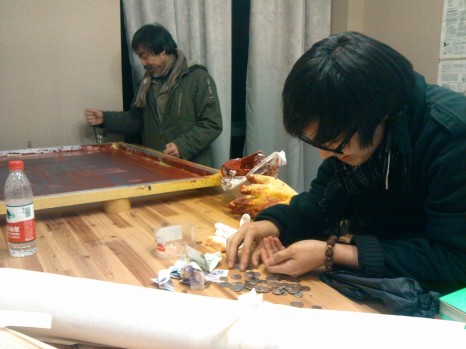 Counting the hot cakes profits (1 yuan x 66 copies sold = 66 yuan!) 清点我们的收获!(1元*66份=66元!)
Read Greenbox Leaks here
在此阅读《绿盒子阜利通》
See more here: 更多信息 http://weibo.com/u/3205118847?topnav=1&wvr=5&topsug=1