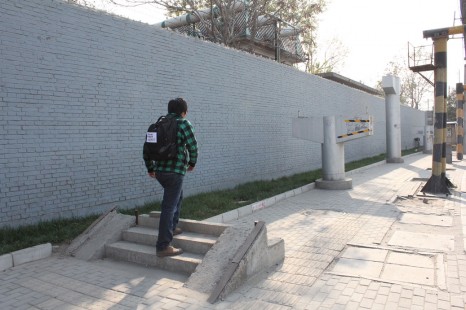 项目招集 /// Call for Participation

直立行走II:重返周口店
5月1日,家作坊将举办第二期"直立行走"项目,再次步行去往北京房山区周口店北京猿人遗址公园。目的地离北京约60公里,耗时约18个小时,晚上在周口店过夜。 作为一个公众参与项目,我们希望每一位参与者能在活动开始前规划出自己的行走路线(走不了全程没有问题,量力而行),并以其为基础,将行走本身视为一种写作,在运动中构建另一种轨迹,无论是历史、个体故事、 意识形态还是任何一种同一性或连贯逻辑的生产或颠覆。 沿途的历史遗迹、当代景观与日常生活系统都可以成为构成上述运动的概念/物理节点。 如果你对本项目感兴趣,欢迎你将你的想法与联系方式发送到我们的邮箱lianxi@homeshop.org.cn。 我们也会于近期发布本次活动的具体日程安排与活动背景。
路线图:
https://maps.google.ca/maps/ms?msid=210439387421320430949.0004d924ec7b761d071c3&msa=0
Walking Erect II: Journey back to Zhoukoudian
On May 1st, HomeShop is embarking on its second walk to Zhoukoudian, location of the famed Peking Man archaeological site. At nearly 60 km from central Beijing, it is a full day's walk, and our plan includes an overnight stay near the site. However, this journey through time and space is open to those willing to participate.
See the basic route here:
https://maps.google.ca/maps/ms?msid=210439387421320430949.0004d924ec7b761d071c3&msa=0
As a walking project, we are taking the actual historical as well as current sites we pass by as sites for a series of actions along the way, triggering a form of writing-by-walking. (Participants who can't commit to such distances can also come in at certain points along the route.)
Because of the destination's symbolic place in modern history and contested place in prehistory, we invite participants to consider histories, stories and false trajectories as contributions, in relation to particular features of the route. The schedule and background of this walk will be rendered in detail soon. Please indicate your desire to participate a.s.a.p. and send your proposals to lianxi@homeshop.org.cn
Join us!