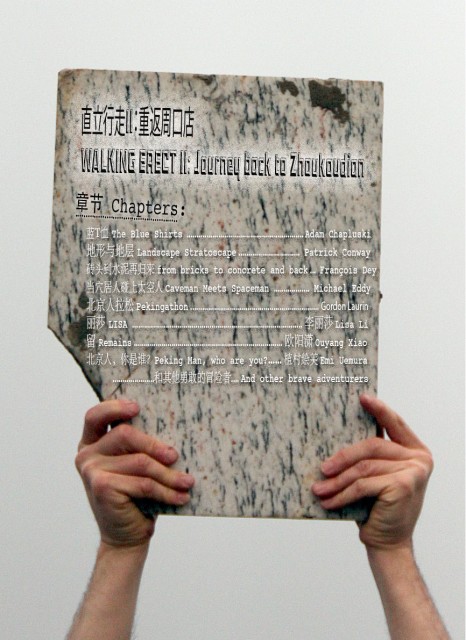 II:回归周口店之旅将在5月1日早6点在北京协和医院东门口正式启动。自计划公布以来,我们已经收到了很多十分有趣的项目题案,当然题案征集仍在继续,请想跟我们一起去但尚未取得联系的同志抓紧了!
请参与者尽量选择舒适合脚的鞋,带上所有出行必备的物品并想办法将行走过程以不同方式记录下来。不计划行走全程的参与者可以在途中与我们相遇。沿途沟通请致电15001127304(英)18910792649(中)。如果你想在周口店过夜,请在4月28日之前与我们取得联系,统一订房,费用由个人承担。第二天,我们可以一起"参观"周口店猿人遗址公园,呵呵。一路顺风
The journey back to Zhoukoudian starts by meeting at 6 am on May 1st at Xiehe Hospital.
A number of participants have signed up with their contributions to the story, but participation is still open to all!
Please consider footwear and clothing carefully and any equipment necessary for your participation. Also consider methods of documentation.
Participants can also join at other points along the way if not for the whole walk. Please call 15001127304 (EN) 18910792649 (中文) to find out the progress of the walk and possible meeting points.
If you wish to stay overnight with the group, please let us know by April 29th so that we can make a reservation at a local hotel (costs covered by individuals).
The next day, we will proceed on to the Peking Man site at Zhoukoudian where we will make some collective actions.
Bon voyage!
章节…… Chapters:
蓝T恤 The Blue Shirts ……………………………………………. Adam Chapluski
地形与地层 Landscape Stratoscape …………………………. Patrick Conway
砖头到水泥再归来 from bricks to concrete and back …  François Dey
当穴居人碰上太空人 Caveman Meets Spaceman ………. Michael Eddy
北京人拉松 Pekingathon ………………………………………… Gordon Laurin
丽莎 LISA …………………………………………………………….. 李丽莎 Lisa Li
留 Remains ………………………………………………………….. 欧阳潇 Ouyang Xiao
北京人,你是谁?Peking Man, who are you?……………. 植村絵美 Emi Uemura

…………………………………………和其他勇敢的冒险者…. And other brave adventurers
……………………………………………. 包括 ….. including …. 曲一镇 Qu Yizhen, Alessandro Rolandi, Orianna Cacchione, 王大船家 Wang Dachuan and family