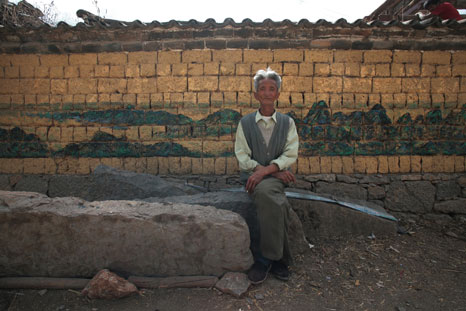 《丽江工作室壁画故事》一次当代艺术在中国农村的实践
新书发布 + 艺术家对谈
Lijiang Studio Mural Stories: Contemporary Art Episodes in Rural China, book launch and talk
日期/时间 date__ 8月19日周日,晚上7点 | Sunday, 19 August, 19:00
地点 location__ 家作坊 HomeShop [地图/map]

对谈艺术家:胡嘉岷,雷磊,刘斌,刘传宏,那颖禹,汤艺,吴俊勇
"壁画项目"策划+《丽江工作室壁画故事》主编:李丽莎
丽江工作室"新农村实验室"项目总监:正杰
participating artists: Hu Jiamin, Lei Lei, Liu Bin, Liu Chuanhong, Na Yingyu, Tang Yi, Wu Junyong
"Mural Project" curator & "Lijiang Studio Mural Stories" compiler: Li Lisha
Lijiang Studio "New Countryside Laboratory" director: Jay Brown
本书是对非营利艺术机构丽江工作室在旅游城市丽江纳西族农村所做的一次当代艺术实践的全面记录,展现出艺术家和农民合作壁画的各种故事,用创造力试探当代艺术创作在农村的活力。
"新农村实验室"之"壁画项目"
丽江工作室2008年主持的"壁画项目"旨在参与中国社会主义新农村建设。在城市化进程加快的背景下,"新农村"一词显示了新时代的建设要求,其具体意义在农民心中各有侧重。
丽江工作室
从2005年开始,丽江工作室一直在位于中国西南边陲的云南省丽江市一个叫"吉祥村"的小村庄进行与农民日常生活互动的艺术实践。我们希望通过艺术家进驻项目创作作品,为到访艺术家和当地居民提供有益的经验。所有活动均不以营利为目的。假如你有意加入,请与我们联系:lsirlisa@gmail.com。
This book is a thorough documentation of one art project that Lijiang Studio, a not-for-profit arts organization, did in a Naxi village near the tourist city of Lijiang. It tells the story of local farmers and artists collaborating to paint murals. It is an attempt to probe the possibilities of creating contemporary art in a rural area.
New Countryside Laboratory Mural Project
The "Mural Painting Project" run by Lijiang Studio in 2008 aims to get involved in building the Chinese "New Countryside" (xin nongcun jianshe). The "New Countryside" is a term that has come up in recent years to describe the new status of rural China in the context of urban China. In our experience the specific application of the term varies greatly.
Lijiang Studio
Lijiang Studio has been making experiments relating to art and village life in this Jixiang (meaning "auspicious") village near Lijiang, in Southwest China's Yunnan Province, since 2005. We run an artist-in-residence program with the aim of making art that is as interesting to the visiting artist as it is to local people as it is to us. We have indulged in this in a strictly not-for-profit way. If you have any ideas you think would be interesting in our context, please contact us at lsirlisa@gmail.com.