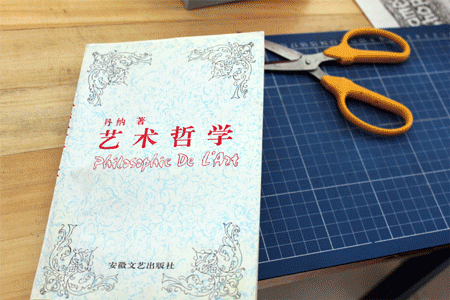 一个茶壶,因为过时而被丢弃。
一个艺术家把它捡来,不小心又把盖儿上的把手摔掉了。于是他用一个废旧的锥子把按在盖儿上做把手,之后又不断在锥子把上放上他的新展品…
这次他从一个人正在读的一本书中剪下来最重要的部分,这部分来自读者认为最重要的几页书,剪下来的部分呈自然的树叶形,很好看…,
这部分读者还没看,等他读到这部分的时候,他会到那个被丢弃的茶壶上的那个被丢弃的锥子把上去找那新长出来的几片新树叶…
孔子云:"何陋之有?"
A teapot was abandoned for being out of fashion. An artist adopted it but broke the knob on its lid. He replaced it with the handle of a disused awl, which formed a stage of continuous, temporary displays…
In this 5th edition, a reader was invited to select a book he had just started. The reader found a section he hadn't read, but that he believed to be important, and cut it out to display on the teapot.
Upon seeing the result, the reader said: "They look like leaves in nature, very nice…"
When he reaches this section, the reader will find the newly grown leaves on the top of a disused awl handle on the top of the abandoned teapot.
Confucius once said: "How could we call a room humble as long as there is a virtuous and wise man in it?"
– Michael EDDY and 曲一箴 QU Yizhen.