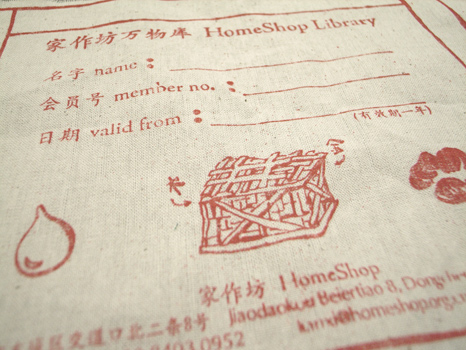 家作坊"万物库"开幕式
2011年6月18日,周六(全天)
HomeShop Library opening
Saturday, 18 June 2011 (all day long)
在交道口北二条的家作坊开幕将近半年之后的今天,我们渐渐地尝试另一种类型的开幕式,这不是一个庆祝大事件的活动,而是一种对很多平凡日子中的某一天的理 解形式。谁说数量不重要?万物库自家作坊开幕时就已经悄悄存在了,虽并没有适当的头衔或组织形式去赋予它价值,这些物品只是贮存了起来,而经历了六个月, 我们可以站在这个小角落之外足够"自豪"地(傻傻地)说一个系统已经存在,或者至少是一个使得它可以提供服务的组织形式。
这种收集可以是关于一些本源所属权的所谓的形式(我们尽量标记每一个物品的来源),这表明了一种对集体的不同态度,这可能不仅仅是为了数量上的增加,而是为了考虑更多赠送和交换的其他形式。
谁说数量不重要?如果你向万物库捐赠三件物品,可以是书、工具或者其他大家感兴趣的有用的媒介,你就能成为万物库的会员去借阅其他物品。借阅时间灵活,可以是从几天到几年,由你所借阅的物品性质和你的需要决定。数量或者时间决定了你与物品之间及你与我们之间的关系。
本公告发布的同时,万物库将向你开放参观与借阅,就像它已经存在的那样,虽然可能某些组织方面将比之前更加清楚。至于这项服务是否会促进或阻止参与的形式仍是一个问题,正如对一般的社会形态也存在这样的疑问,所以就让这周六的开幕作为其中的一项实验。
可参观及参与的活动:
浏览没到一万件物品,包括文学、电影、小设备及更多
全天图书制作工作坊
免费赠送万物库会员专属的由丝网印刷的手帕,可以用来擦嘴或眼泪(送完为止)
Almost exactly half a year after the opening of HomeShop at Jiaodaokou Beiertiao, we venture mildly into another opening of sorts, one which declares itself not to mark the event but as a form of understanding the many amidst a few. Who said quantity does not matter? The HomeShop library has existed quietly since our first days here, without proper titling or forms of organisation to lend it the sense of value that archives tend to garner, and now in our sixth month we can stand back proudly—nerdily—from this diminuitive corner enough to say that an operation exists, or at least an attempted form of organisation that allows itself as an offering. The collection could be about some supposed form of traced ownership (we attempt to label the provenance of each item), and this suggests a different attitude towards collectivity that may go beyond mere expansion towards other forms of gift and exchange.
Who said quantity doesn't matter? If you donate three items to the library, of a nature including books, tools or other media useful and of interest to a larger public, you will be entitled to join as a library member for lending other items from the collection. Loans can thus be made for flexible periods spanning a few days up to a few years, depending upon the nature of the item and your need. Quantity, or time, matters.
In conjunction with this announcement, the library will be open for your perusal and lending, as it has been already, though perhaps certain aspects of organisation will be made clear where they were less so before. There is a question as to whether this serves to facilitate or deter from participation, as should be asked of all our social forms in general, so thus let this Saturday serve as one experiment among the many.
Activities for your perusal and participation:
browse the collection of not yet 10,000 items, including literature, film, small devices and more
book-making workshop (all day long, drop in anytime)
free giveaway of library members' hand silk-screened handkerchiefs for wiping your mouth or your tears (while supplies last)
at 6 p.m. a special Chinese language Happy Friends Reading Group session will discuss Jorge Luis Borges "The Library of Babel" [download here in Chinese | English, see pp. 28-32 | Spanish, see pp. 38-42]
—–
"快乐朋友阅读小组"由Michael EDDY (长期), 何颖雅和伊莲主办。万物库由何颖雅和Fotini LAZARIDOU-HATZIGOGA发起,由王尘尘组织和支持。感谢Annie SHAW提出图书馆思想的好灵感。
This session of the Happy Friends Reading Group is co-hosted by Michael EDDY (long-distance), 何颖雅 Elaine W. HO and 伊莲 Desireè MARIANINI. The HomeShop library is an initiative of 何颖雅 Elaine W. HO and Fotini LAZARIDOU-HATZIGOGA, managed and supported by 王尘尘 Cici WANG. Thank you to Annie SHAW for bibliothesque inspiration.