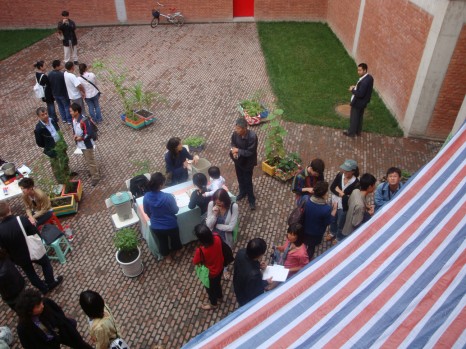 真和假第三期 True and False 3
家作坊@北京有机农夫市集
HomeShop @ Beijing Farmers' Market
9月20日周五上午11点到16点在颐堤港购物中心将举办"真和假"活动第三期。家作坊再次现身农夫市集并推出两项活动。
我们的嘉宾是维他命艺术空间"这个店"。本期为北京有机农夫市集三周年庆典活动。北京有机农夫市集的前身是市集,2010年9月18日, 市集于2010年夏季维他命艺术空间所在地首次举办。
请点击http://www.flickr.com/photos/64090761@N03 查阅Country Fair早期图片。
 
On Friday September 20th, from 11:00 to 16:00 at INDIGO mall, HomeShop will hold its third edition of True and False as part of the Beijing Farmers' Market and Country Fair.
Our guest is Vitamin Creative Space's the Shop. This edition of "True and False" marks the third anniversary of the Beijing Farmers Market, which began as the Country Fair at Vitamin Creative Space's summer 2010 location in Caochangdi on September 18th, 2010. You are welcome to join the celebration!
More images of Country Fair's beginnings: http://www.flickr.com/photos/64090761@N03
 
About the Shop:
the shop 这个店
1,"这个店"将以"店"的形式出现在公共空间;
2,店内展示的将是从不同的个体生存经验出发的,能在日常生活中应用的艺术作品,通过看和使用它们,观众将体验到这个空间所散发出来的"想"和"做"的信号;
3,人们在"这个店"里不仅能看到,也能买到这些作品,购买将成为一种由物及人,进而进行思想交流的媒介;
4, "这个店"作为展览,作为生活哲学的现实界面,将是一个寄生在公共空间的小公共区域,更直接地促成创造行为和日常生活关系的转化;并揭示在非机构性的空间内一种新的创作形态;
5,"这个店"的形态会因不同创作者的加入而产生变化,展示的作品也将发生演变, 并随展出情境的变化而变化。
6,对于"更好的生活"这一可能性的追寻和实践,使得"这个店"将进一步融合了创作者和作品,作品和观众的界限。
1. the shop will take the form of a "shop" within public space;
2. the shop will exhibit pieces inspired by individual experience, made by emerging Chinese artists, fashion designers and various young creators, and can all be used in daily life.
Through viewing and using these objects, viewers will be able to experience the signals for "thought" and "action" that this space emanates.
3. Aside from viewing the "products", one can also purchase them, the shop thus transforms the shopping process into a new mode of communication.
4. As an exhibition, the shop presents a tangible interface of the philosophy of life. It will generate a non-hierarchical medium within the public space, for people to experience and re-discover life's energy;
5. The physical form of the shop and the works presented will evolve depending on the participating artists and circumstances surrounding the exhibition;
6, the shop attempts to dissolve the separation between subject and object, hence further stimulating the integration between life and art. It allows for personal approaches to the pursuit for and realisation of a "better life" in our times.
See more:
http://www.vitamincreativespace.com
http://shop57284870.taobao.com/