城市农夫比赛
你是否身居城市的钢筋森林,却有一颗向往田园生活的心?
你是否在阳台、在房前屋后、甚至在郊区租了一小块地种菜、育苗、浇灌果树,而且不使用化肥、农药等各种化学合成物质,是个骄傲的城市有机农夫?
你是否觉得自己也是种菜能手,傲视京城?
如果以上三个问题的回答都是YES,那么请参加北京有机农夫市集为您度身定做的"城市农夫比赛",向专业的有机农夫和各路专家(以及"砖家")证明你的实力吧!
时间:2011年9月25日(周日)12pm-4pm
地点:城市农夫比赛及农夫市集周年庆祝活动
天窗临时咖啡店/酒吧, 大栅栏燕家胡同2号
具体比赛流程和时间安排稍后公布。更多信息请见新浪微博@北京有机农夫市集 http://weibo.com/farmersmarketbj;和博客http://t.cn/adIcwx
奖品:奖品将由市集农户和商户,以及部分合作伙伴提供,包括:新鲜蔬菜、香草茶、红酒、《贝太厨房》杂志,手工首饰,手工糕点等。
您和您家的蔬果可以报名角逐以下类别的奖项:
瓜拉松奖:最佳南瓜造型;最坚强丝瓜;最搞怪冬瓜;最美丽葫芦奖。
最红西红柿。
香草盆栽造型大师。
豆你玩奖(豆科种类大比拼)
珍稀品种奖
自由类别(您可以为您家的蔬果设计专门的奖项哦)
比赛结果将由消费者和评审团共同评选产生。评审团成员包括:
经验丰富的专业有机农夫
园艺专家
美食作家
吃货砖家等
比赛奖品由市集农户和志愿者提供。当然,更重要的奖励是来自专业和业余农夫的经验交流,技术分享,甚至种子和苗圃交换。
有兴趣报名参赛的城市农夫请把以下信息发到farmersmarketbj@gmail.com,请务必在标题注明"城市农夫比赛报名":
参加比赛的蔬果品种和竞技类别
蔬果及其生长环境的照片,尺寸不超过1M
您种菜的地点和环境(阳台上?市内?家门口的院子?还是在郊区租的地?)
蔬果生长的方位(具体到马路、小区或村即可,最好网上地图可以搜索到大致方位)
联系方式(电子邮件、电话;如有微博,请注明)
URBAN GROWERS COMPETITION!
Are you a city-dweller who grows food (home-grown organic, no chemicals!) in or around your home?
So you think your vegetables are the best in town, huh?
Come and prove your skills at the next Country Fair, happening September 25th in Dashilar!
Urban Growers Competition & Country Fair's First Anniversary Celebration
at Sky Light pop-up Café, No. 2 Yanjia Hutong
Sign up for the following categories:
The Gourd Quadrathlon: Best pumpkin shape; strongest sigua; monster beigua; perfect hulu aesthetic
Reddest Tomato Award
Potted Herb Arrangement Masters
Bean Variety Open
Exotic Vegetable Prize
Freestyle Entries
Judges will include a combination of esteemed farmers, distinguished gourmets and food writers. A great way to share your knowledge, techniques and even your seeds! Serious fun! Great or strange prizes!
Interested participants please send Country Fair an email <farmersmarketbj at gmail.com> including:
What vegetables you will submit
A small (1mb maximum) photo of your plant and its location in your home.
A short description of your growing location and conditions (where in home, what location)
The name of the street where you live
Contact information (phone, email, and weibo if applicable)
家作坊的选手 HomeShop's contenders: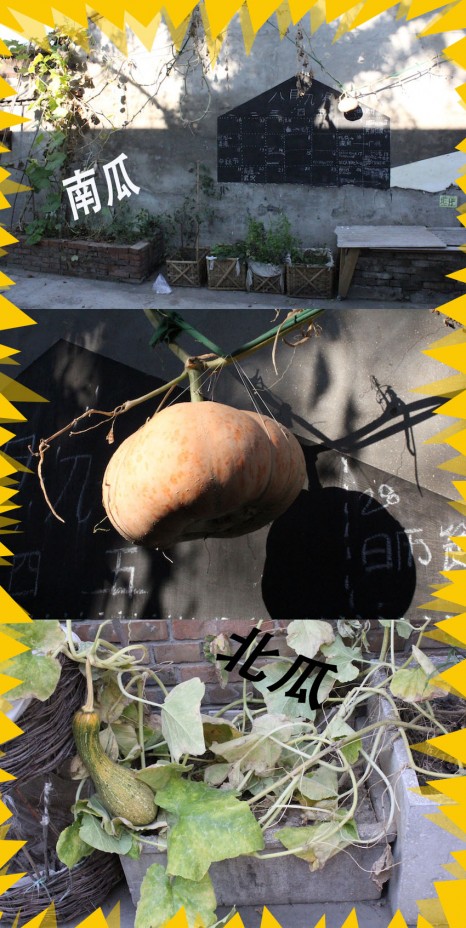 Beigua is indeed a vegetable! 北瓜是一种菜!