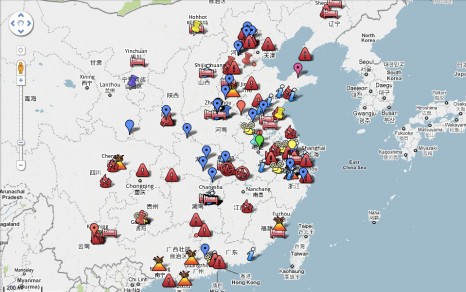 The 'Blood Real Estate Map' which sparked huge interest online in the last months came to my knowledge in the real space of my living room. It's kind of messy here these days, as preparations to move out of the small grounds at Xiaojingchang are underway for a lateral shift towards Beixinqiao, but a friend stopped by one evening with the kind of hushed urgency of a very important favour to ask. She was asked by a wishing to remain anonymous contact of hers to help translate a response text about his initiative documenting violent incidents linked to forced demolition and eviction. She needed my help for the translating and proofreading, and so another late night at HomeShop rolled cultural exchange, an attempt to map the current condition and maybe a little bit of exaggerated or not ballsy-ness (you have to keep quiet about this, he's at a lot of risk and we don't know what may happen) all into one.
The Blood Real Estate project, which was launched at the beginning of October, consists of two Google maps:
the revised version [note: use proxy to access], which is edited by the founder and shows only verified cases, and an open version [note: use proxy to access] that anyone can add to or edit. Little volcanoes represent sites where people were evicted violently, with water canons or Molotov cocktails.  Beds indicate incidents that resulted in at least one death. [France 24]
The map maker felt a personal response to foreign media was necessary because of all the publicity generated by his work, and while proofreading his text I was surprised to find such an emotional personal declaration to clarify an action of anonymous digital tracking (though the wiki-version feels much more dramatic). The calm reflection he claims results from this project sounds more spiritual than practical, more self-intuited than strategically outlined. Not that anyone has any answers. Blow-up is blow-up, whether it is someone's home, publicity or real and imminent threat.
Below is the full version of his text "Believe in Tomorrow", first published in an edited version at France 24 International News: