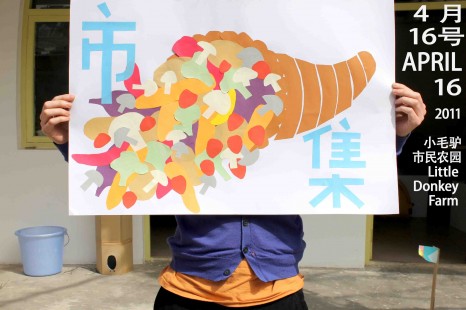 感谢大家一直以来对北京有机农夫市集的关注和支持。
下一次市集将和小毛驴市民农园合作,作为他们4月16 日开锄节的配套活动同时举行。届时将有20多家北京本地的农户、食品作坊、环保和三农NGO、艺术家和音乐家前来参加。您不但可以买到健康、有机、环保的农产品,还可以品尝到我们用有机食材制作的中西式美食、甜品和饮料(数量有限,欢迎您自带餐具)。同时,您还能在市集上了解与食品安全、环保、可持续生活相关的信息,让您吃得更放心,生活更低碳。市集志愿者的小厨房收入将会捐给日本和云南盈江地震灾区。欢迎您来市集了解更多我们在两地合作的NGO的工作。
开锄节的活动也非常丰富,详情请参考附件。

集市/Country Fair
北京有机农夫市集
时间:2011年4月16日星期六 上午10点至下午4点
地址:小毛驴市民农园
北京市海淀区苏家坨镇后沙涧村西
http://www.littledonkeyfarm.com/introduct/nav_8_21.aspx
电话:010—62460405(小毛驴市民农园),134 0105 6422(中文)/ 136 9363 9394 (English /日文)
网站:
http://www.littledonkeyfarm.com/articleinfo/detail_5_9_264.aspx
邮箱:
littledonkeyfarm@163.com
,
farmersmarketbj@gmail.com
如果大家有拼车需求,或者愿意提供拼车信息,请登录我们的微博和豆瓣页面,自行发布信息。
微博:北京有机农夫市集 (
http://t.sina.com.cn/1918547924
)
豆瓣活动:
http://www.douban.com/event/13743609/
http://www.douban.com/event/13700536/
北京有机农场地图:
http://pangbianr.com/farmmap.html
//////////////////////////////////////////
This month, Country Fair is being held during Little Donkey Farm's Spring Planting Festival!  We are inviting local farmers, artisans, environmental NGOs, and art and music collectives for another fantastic exchange event.  Come for the market and stay for all of the activities – workshops, demonstrations, kids' classes, and even a field day – at Little Donkey's festival!  Please join and share your experiences so that we can keep this event growing together.  And remember to bring your own bowl and utensils to sample fresh, homemade organic treats. Part of the proceeds of the sale at the Country Fair will go to earthquake relief efforts in Japan and Yunnan Province. Please come to the Fair and learn more about the NGOs we are working with.
集市/Country Fair
Beijing Farmers Market
April 16th Sat, 2011   10:00 a.m.~16:00 p.m.
Address: Little Donkey Farm
West of Houshajian Village, Sujiatuo Zhen, Haidian District, Beijing
http://www.littledonkeyfarm.com/En/introduct/nav_14_29.aspx
Phone:010—62460405(Little Donkey Farm),134 0105 6422(CH)/ 136 9363 9394 (EN /JP)
网站:http://www.littledonkeyfarm.com/articleinfo/detail_5_9_264.aspx
邮箱:littledonkeyfarm@163.com,farmersmarketbj@gmail.com
If you plan to drive to the Country Fair and have extra seat in your car, you are most welcome to give other people a ride. Please go to our Weibo and Douban to publicize your information.
Weibo: http://t.sina.com.cn/1918547924
Douban: http://www.douban.com/event/13743609/
http://www.douban.com/event/13700536/
Beijing Farm Map: http://pangbianr.com/farmmap.html
———————————————————————–

芳嘉园 Fangjia Farm
圣林生态农庄 Sun Lin Farm
凤凰公社 Phoenix Commune
小毛驴市民农园 Little Donkey Farm
德润屋生态环境科技中心  De Run Wo
天福园有机农业 God's Grace Garden
特奥愛心农庄 Special Commune
国仁绿色联盟 Ground Green Union
北京布乐奶酪坊 Le Fromager de Pekin
手土义坊 Shou Tu Yi Fang
谢睿慈 Lily HSIEH (厨余垃圾堆肥 EM compost)
瀚海沙 Han Hai Sha
全球和平妇女 Peace Women Across the Globe
緑色和平/ Green Peace
自然之友 Friends of Nature
达尔问自然求知社  Green Beagle
农业与贸易政策研究所 Institute for Agriculture and Trade Policy
集市厨房 Country Fair Kitchen
日历餐厅 Calendar Restaurant
小V Little V (素食餐厅)
旁边儿 Pangbianr
家作坊 HomeShop
and more
/// 联系方式 ///
北京有机农夫市集 Country Fair
电话:134 0105 6422(中文/English)/ 136 9363 9394 (日文/ English)
邮箱:farmersmarketbj@gmail.com