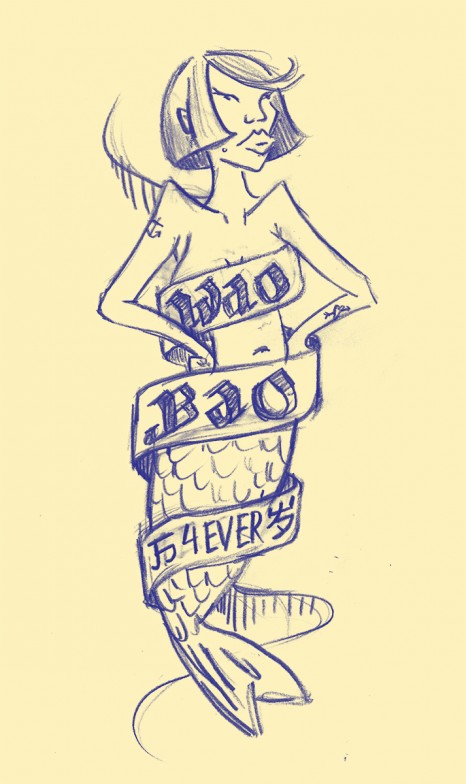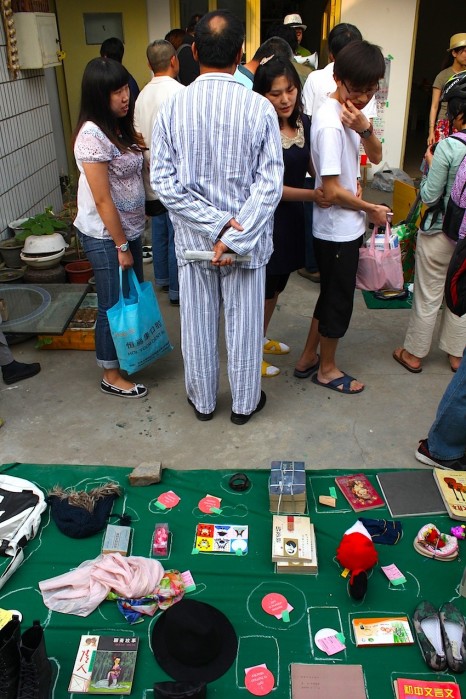 "献宝兑宝"万岁!
欢迎大家12月8日星期天来家作坊参加"献宝兑宝"万岁!活动,这将是家作坊关门前第四期也是最后一期的"献宝兑宝"活动。从上午11点起,带上您的各种宝贝前来这个狂欢节并通过票券系统进行交换。
最珍贵的物品将在下午5点一场激烈的拍卖会上呈现,激动人心!
"献宝兑宝"万岁!更新
以书籍、衣服和CD换取的票券数量有一些新的限制,但同时可以通过新的途径在现场赚取票券!
参与工作站短期的勤奋劳动可以获得票券:
-讲述一个有关物品的故事
-帮助缝制家作坊的纪念棉被
-监督他人的工作
这些都能得到额外票券!
增值!
"糊了——二条艺术节":一系列的公平贸易&艺术介入,包括行为、装置、声音等沸腾之作!
基本规则与条件:
在12月8日11点到5点之间,请您把不需要的物品带到家作坊进行交换。"献宝兑宝"团队可以将进行评估并拒绝损坏的物品。另外,我们接受服务和技能上的交换,例如语言或烹饪课。所有物品都应遵守以先到先得的原则,挑选出来的宝贝将保留到当天下午5点拍卖。
*艺术品不由任何第三方公平贸易组织认证
如果你错过了……
WaoBao! 4ever
Come one and all to HomeShop on Sunday, December 8th for WaoBao! 4ever the fourth and final WaoBao! event before HomeShop closes its doors FOREVER. Starting at 11 am WaoBao! will welcome exchanges of HOT items for tickets (to be used to exchange for other items) and commence a veritable carnival of activities. At 5 pm, an exhilarating auction will wrap up with the finest goods of the day!
NEW at WaoBao! 4ever:
There are new limits on the number of tickets given for books, clothing and CDs.
But there is a new way to earn tickets on site!
New work stations where participants can acquire tickets through short bursts of HARD WORK.
– Tell a story about your objects!
– Work on the HomeShop memorial quilt!
– Oversee the work of others!
All of these will get you EXTRA tickets!
Bonus!
Now with FREE "2 Tiao Art Festival": A series of interventions by live artists making fair trade* performances, actions and art masterpieces! Value added!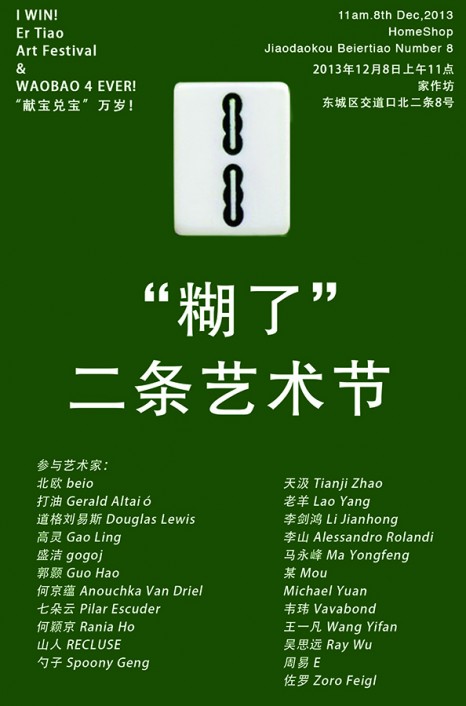 basic rules and conditions:
To take part, all you need to do is bring all your unwanted goods to HomeShop on December 8th from 11 to 5pm and swap! Do keep in mind, the WaoBao! team can appraise or reject broken or damaged goods at their discretion. We are also open for participants to swap services and skills, such as language and cooking classes.  All items go on a first come, first served basis, and selected priority items will be set aside to be auctioned off at 5pm on the day.
IF YOU MISS THIS ONE…
*these artworks are not certified by any third party fair trade organization