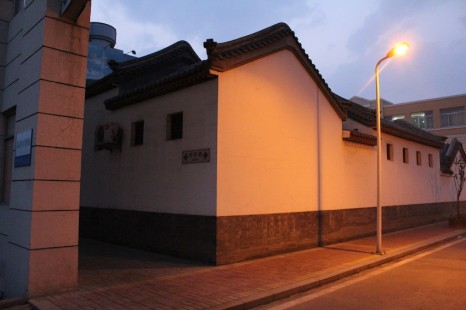 A traditional courtyard house.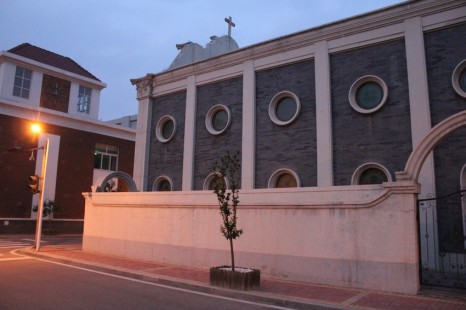 A church, for training purposes.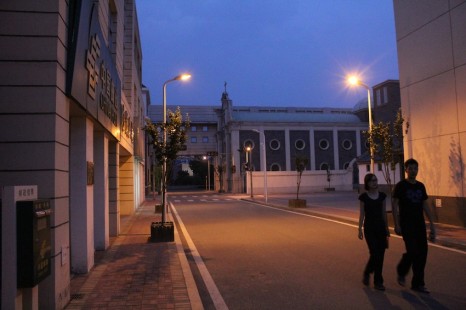 A real post office, on the left.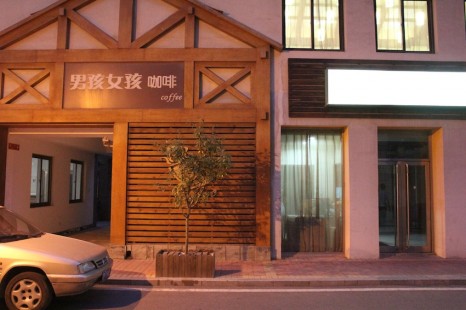 A fake coffee shop next to a real tea shop.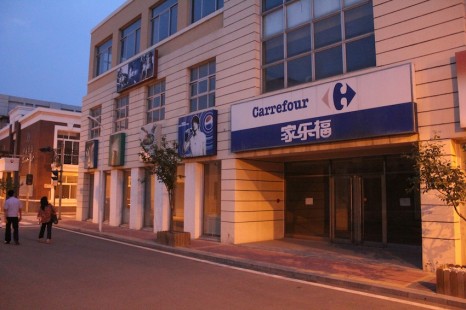 A fake Carrefour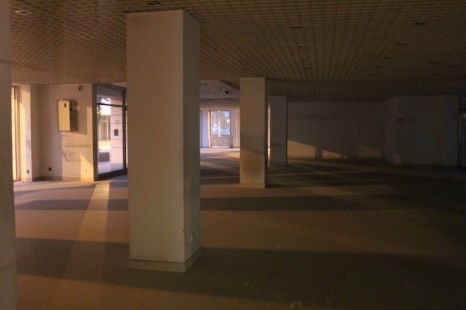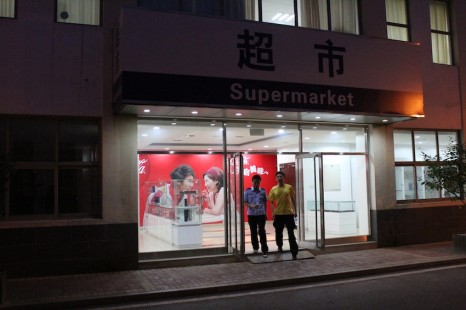 A real supermarket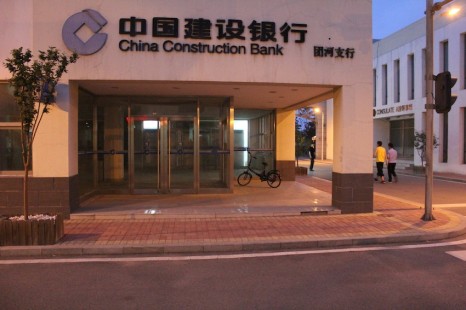 A fake bank.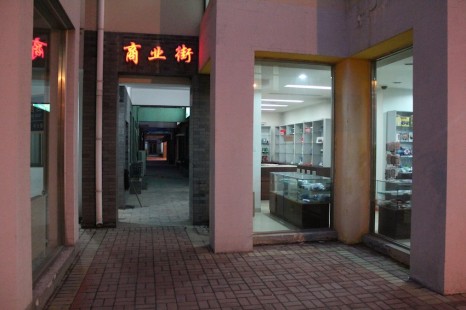 An alleyway next to a real print shop.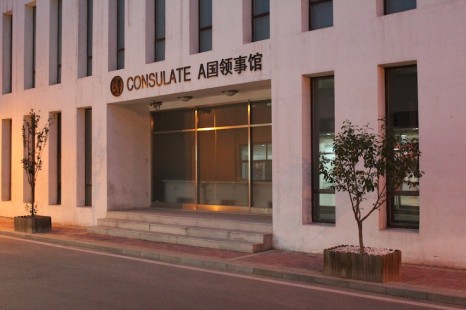 A consulate for "Country A."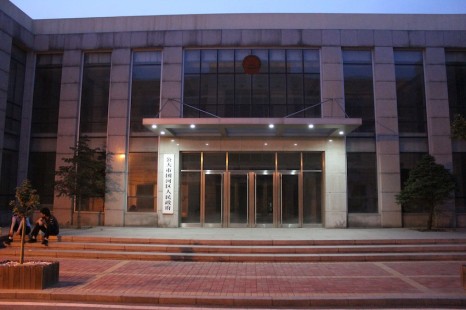 A fake government building.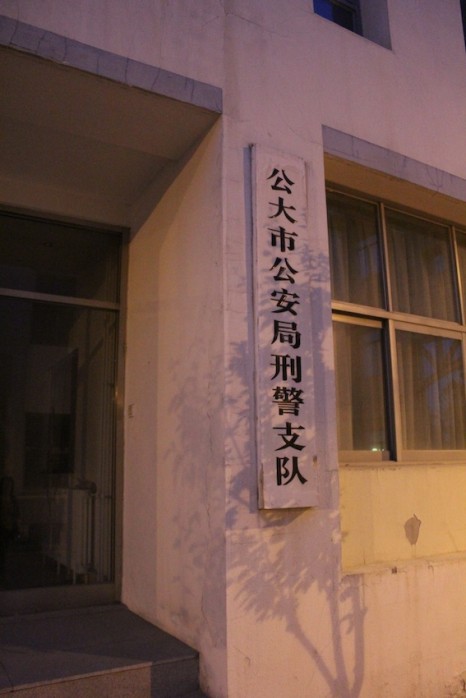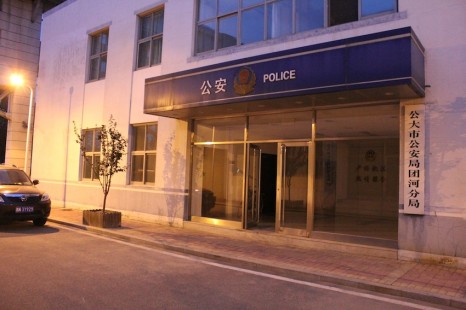 A real police station.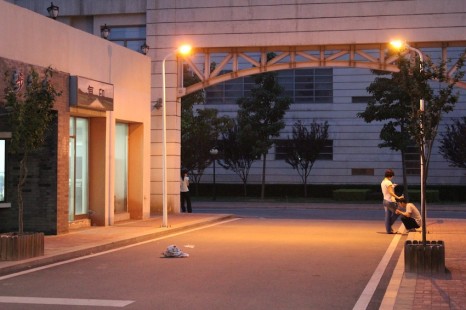 On the edge of town.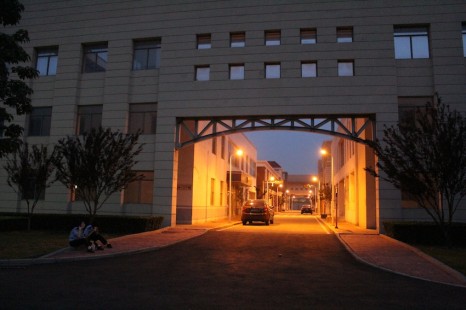 My first attempt to enter the Chinese People's Public Security University at 7 o'clock on a Thursday morning met with abrupt rejection. "This university is not like others," the sympathetic but inflexible guard smiled. The following Tuesday I returned and through the magic words of a few contacts, fairly waltzed into the vast and well-kept campus, abuzz with the meticulous workings of early evening. We walked along streets with names like "Loyalty Avenue" and "Diligence Avenue" in a self-contained parallel universe populated by young cops and athletes in various groupings and formations breaking apart, flowing through a corner together, founding blue constellations across the immense, dusking Culture Plaza. No trash cans in this world: trash cans mean trash. No holding hands in this world. 
After a review of evening roll call followed by substantial dinner in the cafeteria, we proceeded to a large installation near the heart of the campus, formed of a massive free wall surrounding a model of what appeared to be a European style town center. The traffic lights stood blind and waiting, and through a window above a real dry cleaners came the keening quasi-tunes of karaoke. 
The town was neither completely real nor completely fake. Perhaps this diversifying was to make it more interesting, to create a sense that this dead space was somehow half alive, like a permeable, banal amusement park. But as a training ground for how to tackle situations like traffic control and bank robberies, one could also imagine this mixture of shops for daily necessities and the neighboring empty simulations as furnishing the leitmotif of preparedness for social breakdown even on one's habitual off-hour trips to commissary.
Passing again outside the wall, we cut across the gigantic sports fields to a low building of studio rooms where extracurricular clubs convened. One of our guides, whose major is in processing foreigners and who loves punk music, had offered to let us watch their brand practice. We were treated to a suite of Chinese and American standards including "Every Breath You Take" by the Police, "Desperado" by the Eagles and "Holiday" by Green Day. 
No irony in this world. Just the shining, armed citizens with their perfect eyesight (mandated to make it through the gate), honing their creative, sexual energies for the republic.
Holiday
"Say, hey!
Hear the sound of the falling rain
Coming down like an Armageddon flame (Hey!)
The shame
The ones who died without a name
Hear the dogs howling out of key
To a hymn called "Faith and Misery" (Hey!)
And bleed, the company lost the war today
I beg to dream and differ from the hollow lies
This is the dawning of the rest of our lives
On holiday
Hear the drum pounding out of time
Another protester has crossed the line (Hey!)
To find, the money's on the other side
Can I get another Amen? (Amen!)
There's a flag wrapped around a score of men (Hey!)
A gag, a plastic bag on a monument
I beg to dream and differ from the hollow lies
This is the dawning of the rest of our lives
On holiday
(Hey!)
(Say, hey!)
(Wait for it!)
"The representative from California has the floor"
Sieg Heil to the president Gasman
Bombs away is your punishment
Pulverize the Eiffel towers
Who criticize your government
Bang bang goes the broken glass and
Kill all the fags that don't agree
Trials by fire, setting fire
Is not a way that's meant for me
Just cause (hey, hey, hey), just cause, because we're outlaws yeah!
I beg to dream and differ from the hollow lies
This is the dawning of the rest of our lives
I beg to dream and differ from the hollow lies
This is the dawning of the rest of our lives
This is our lives on holiday"
 (from the album "American Idiot" by Green Day, 2005)