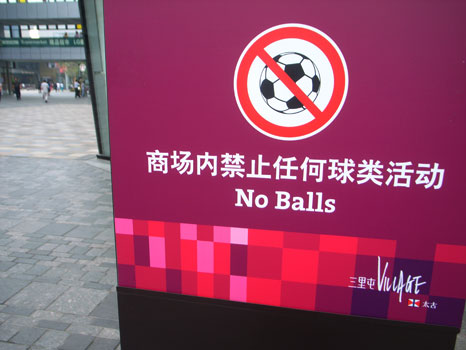 One finds oneself laughably excusing oneself before the Security Guard wearing baggy pleated shorts. At the same moment as the question emerges from the tip of my tongue (was that indignation or hesitation): Isn't this a public space?——those wry twinges at the back of the head (very pertinent?) know all too well that a shopping mall is not a public space. What are you doing here? she asks.
Oh, hmm…uhh…I guess standing around the square and accosting people to take their pictures are not allowed. Security Guard very easily narrates her rehearsed consumer edification statement on the nature of such a "public space" as 三里屯 Sanlitun Village in East Beijing: This is the property of 太古 Taigu (Swire), and while visitors are free to regard this as a public space we do retain certain regulations and have the right to enforce them. Also inflected: consumers must be defended at all costs from anything that deters from a total shopping/dining experience, especially annoying ones like you.
Can I take your photo?
It is the perfect balance of civilised courtesy and the scenario of firm, surveyed control. We can reach the pinnacle of sophistication in an environment where we are surrounded by bourgeouis goods (I hung around to photograph one very fashionable trio, but they stayed inside Izzue for over an hour) and earphone/walkie-talkie donning young guards wearing baggy pleated shorts. It would be easy to walk away then and continue to accost Sanlitun visitors around the corner, on the other side of the square, maybe in front of the American Apparel instead of the Nike store. But you've been booted already, no balls, and it's easy to begin seeing suspicious glares in all the other baggy-pleated short wearing guards that you pass every 50 meters. Go ahead and try to make friends now!
I go to an American-Italian-esque café to have a cappuccino instead. Sigh. Like my mother when she was younger, I can sit for hours on end watching people, though I wonder if my mother ever had as much longing after strangers as I do on a day like today, when I've been shamed for my feeble attempts at public engagement. Back then, my mother would visit the old Kai Tak airport in Kowloon Bay, and I guess I grew up in the shopping malls. It's introductory Augé on repeat. But if these are not public spaces, perhaps we are not publics either, and I can only justifiably play fashion police as a marketing study for what trends and consumer groups should be regarded as the main influencers. To be an influencer would only then be a question of who best shines under a control scenario, under the influence of terms like 'regime' and 'privatisation' and 'surveillance'. Is that what I like so much about the hutong still then, where life still happens under the cuff as much as it is committee-surveyed and organized for behavioural control (i.e., "文明北京人 civilised Beijinger") as any of our more cosmopolitan world alternatives?
Maybe things are not tested as much as they could be. It felt sheepish to receive in an e-mail today: keep pushing the threshold. Playing ballsy? What does that mean, exactly? I would have liked to have written a treatise on ballsy-ness by now, but I sit instead at an American-Italian-esque café thinking too much about people who could care less. "Beyond" could be like a Badiou-ian truth, but vectorless possibilities and ballsy-ness require some form of immanence to be pushed. And where does interior exist in a control society? Are these the parameters of 'post-privacy'? We are all influenced. All captured and captivated and de-humanised.