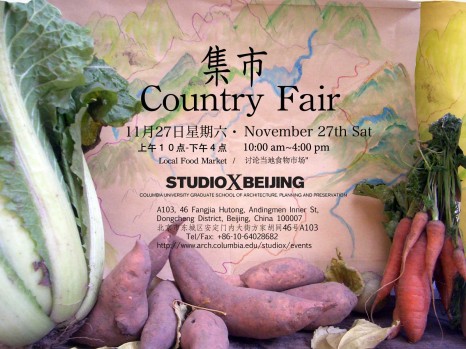 11月27日 上午10点-下午4点
市場開始:上午10点-下午4点
讲座:  下午1点-3点
地点: Studio-X Beijing 北京东城区安定门内大街方家胡同46, A103 [地图]
电话: 010-64028682
邮箱: studioxbeijing@columbia.edu
网站: www.arch.columbia.edu/studiox/events
//////////////////////
November 27th, 2010, 10:00 ~ 16:00
market: 10:00 a.m. ~16:00 p.m.
talk: 13:00 p.m. ~ 15:00 p.m.
venue: Studio-X Beijing
A103, 46 Fangjia Hutong, Andingmen Inner Street, Dongcheng District, Beijing, China, 100007  [see map]
Tel : 010-64028682
contact: studioxbeijing@columbia.edu
web: www.arch.columbia.edu/studiox/events
///与会者/ Participants ///
"集市"是一个关于食物和城市农业的正在进行中的教育项目。它包含两部分:农民市场和一系列小项目。农民市场从北京自然/有机农业生产者和消费者之间的直接交易所产生的需求中发展出来。然而,这里仍旧存在着一个巨大的鸿沟,一些生产者产出过剩的有机产品,与此同时,一些消费者却不知从何买到绿色食品。"集市"便是这样一个平台,农民和消费者组建网络,最重要的是,他们还可以在城市中分享彼此的经验。这将使我们在饮食习惯、选择及行为上获得新的认识,继而成为一名合格的城市消费者,我们也相信,这将鼓励并使当地农民未来的生产获得收益。同样,我们组织小型讨论、演示、行为和工作坊,也带有教育的目的。
Country Fair is an ongoing educational endeavor, both a farmers' market and a series of projects and lectures related to urban agriculture. It was developed out of the need to connect natural/organic farmers and consumers in Beijing.  Many farmers have an oversupply of produce, yet few consumers know how to begin a more natural way of eating.  The Country Fair serves as a platform for to learn about responsible urban practices and to demonstrate how the market works in Beijing: understanding distribution and consumption patterns will support farmers in their future practice.
Studio-X(哥伦比亚大学建筑、规划与历史保护研究院)是本次"集市"项目的合作方。关于农业的观念和城市空间的认识,以及本地食品如何进入城市的讨论,将在这个空间内进行。在本次会议中,我们还将绘制一张配送地图,以便更好地认识整个路线、可能超负荷的区域、环境问题,最简单的目的则是认识食物是如何配送的。
On November 27, the Country Fair will take place at Studio-X Beijing (Columbia University Graduate School of Architecture, Planning and Preservation) – a multi-purpose space to engage with the fields of urban planning and development – and will include collaborative activities to explore how locally produced food comes into the city. During the day-long event, farmers and professors will speak about the policies that shape rural agricultural practices, and participants can contribute to digital map visualizing how food circulates in the city.
集市是"行动花园"项目的一部分,由植村絵美和北京维他命创意空间主持。
"Country Fair" has been developed through the project "Mobile Garden" by Emi UEMURA and Vitamin Creative Space in Beijing.
///"集市"组织 /// Country Fair Organization ///
植村絵美 Emi UEMURA(艺术家,从事农业实践 / Artist, practicing farming)
Michael EDDY(艺术家,维他命创意空间 / Artist, Vitamin Creative Space)
何穎雅 Elaine W HO (艺术家,家作坊 / Artist, Homeshop)
石嫣 SHI Yan (中国人民大学在读博士,小毛驴市民农园/PhD Candidate in Renmin University, Little Donkey Farm)
梅若琳 Caroline MERRIFIELD (哈佛大学社会学系毕业生、富布赖特学者/ Fulbright Scholar in Agriculture)
若兰  Laura (素食料理/ Vegan Chef)
刘俐杉 LIU Li Shan (华福德教育工作者,小毛驴市民农园 / Waldorf Educator, Little Donkey Farm)
阮思蓓 Elisabeth RAMSEY(Studio-X Beijing经理 / Manager)
蒲鸿 PU Hong(Studio-X Beijing经理 / Manager)