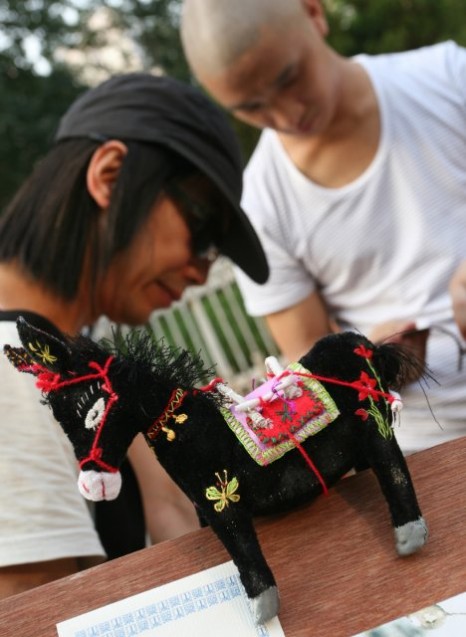 Happy Friends Reading Club will be meeting on Saturday, the 31st of July at the shop in Caochangdi with special guests Donkey Institute of Contemporary Art. A description is below.
If you would like to receive links to the texts or for more information, please email: eddy at vitamincreativespace dot com.
For directions to the current location of the shop see here.
A set of donkey essays from the Donkey Institute of Contemporary Art to Happy Friends Reading Club, with short texts by Catherine Ingraham, Eyal Weizman and Richard MacGregor compiled by DICA Co-Founder Michael Yuen.
Says Yuen: "By choosing short texts about the Communist Party, one about donkeys in architecture and one about the Israel-Palestine conflict, the point is not to be obtuse nor to be topically provocative. Instead, I see in these texts detailed analyses, at times conceptual traps, ways forward and a devastating look at various ideological agendas played out in the city. And, these themes play out in Paris, the West Bank and Shanghai."
Two essays were omitted from this collection. They are Borges' "The Art of Verbal Abuse" and Pier Vittorio Aureli's "The Project of Autonomy". Including these would have made the amount of reading onerous. But, also briefly mentioning them here can give us some insight. Aureli's essay on architecture begins with its main thesis from the Greek-French rightist philosopher Cornelius Castoriadis: the agenda of the French intellectual left of dismantling hierarchies has become an ideology of conforming. Aureli and Castoriadis attack a philosophy that they see as no longer a radical–it is itself another, having become another hierarchy. As for Borges's essay, here we find ways of acting or maybe ways of speaking: humour, lightness, imagination and intelligence. These are parts of Borges' writing some continental philosophers forgot.
As a way of closing this short introduction, a few words about 'cities'. It is clear to me, our old ways of viewing cities are dying. Around us we continually see people reconfirming recognizable ideas. This reconfirming leads us nowhere. And, as we look for new visions for cities, we must avoid merely proposing programs. Perhaps, there is value in remembering this as you read the programs detailed in the following essays and chapter excerpts."
For more information about the Donkey Institute of Contemporary Art, see: http://www.donkeyinstitute.net/