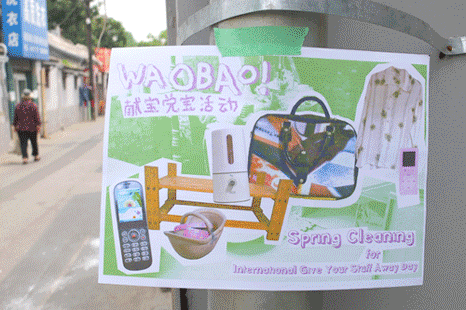 W

a

o

B

a

o

!

献

宝

兑

宝

活

动
Spring Cleaning for International Give Your Stuff Away Day
国际"变废为宝"节
时间 date/time__2012 年5月12日,周六下午2点至6点
                        Saturday, May 12, 14.00-18.00
地点 location__家作坊 HomeShop,东城区交道口北二条8号 [地图]
                    Dongcheng District, Jiaodaokou Beiertiao 8 [map]
豆瓣同城活动 Douban event__www.douban.com/event/16419765/
五月十二号(星期六)来家作坊就不仅仅是打酱油啦,前来参加"献宝兑宝活动"。夏日炎炎,让您的居 室,柜橱,里里外外更宽敞明亮一些吧,五月十二号这一天把你家淘汰下来的物 品,如手机、衣服、箱包,旧家具及其它生活用品带到家作坊来,与需要它的人交换,使你的 闲置物品变成别人的宝贝,别人长期不用的东西成为你的最爱!除了交换闲置物品以外你也 可以交换服务和技能,如,用帮别人看孩子来交换网站设计、用一顿自家做的便饭来交换非限行号车辆的一日使用权,同时我们也会教你怎样旧物"再设计"改造, 还会播放如何把垃圾变废为宝的短片,十分有趣!带着你的朋友来跟我们一起玩吧,说不定你还会"交换"到一个新朋友带回家哦。还有免费饮料和小 吃提供,在本街道居住时间最长的家庭之一宋家,将教授我们如何再设计"后现代有种糖葫芦"!
从五月五号起家作坊开始接收你不需要的 闲置物品。请你快把不要的物品拿到交道口北二条8号来,我们会先给你一张"兑宝券"。你需要的宝贝在 等待你"赎"它回去…你"冷宫"里的宝贝也让我们垂涎三尺。取长补短,互利互助,皆大欢喜,何乐不为?!(也可于12日当天带来你将交换的物品!)
On Saturday, May 12th, come and do more than get the soy sauce at HomeShop's "WaoBao Spring Cleaning" event! The purpose of the day is for you to gather everything you've left covered in dust in your closet and swap these things with other people who can make new use of them! Traders should bring everything from unwanted mobile phones to clothing and bicycles on trading day, and get ready to drive hard bargains. Money is no currency on this day, just bring your stuff and prepare your sharp and sparkly bargaining tongue! In addition to swapping stuff, you can also swap your skills and services, like trading babysitting time for a day's use of a valid license plate on the right driving day, or a home-cooked meal in exchange for website design services. As well as the trading, mini-upcycling and DIY project workshops will take place on site, and we'll be showing a few short films about how our consumer habits have created a big trash society and the few individuals who are trying to give new life to it. Free drinks and snacks will be on offer, and one of the oldest families on the block, the SONG family, will also be on hand to teach us how to upcycle the classic tanghulu candied fruit skewer into postmodern balls on sticks, WAO!
Get off of the internet and WaoBao the clutter in your life instead! Starting May 5th, we'll begin accepting donated must-haves to develop a stockpile of treasures, so for those of you with the bounty and not the space but the desire to see things loved a second time, please drop by HomeShop during opening hours to bring items and get tickets redeemable for trade on Spring Cleaning Day. (You can also bring your stuff directly on the 12th!)
_____
"糖葫芦的后现代生活"工作坊又Carrot Design工作室与家作坊的何颖雅发起。WaoBao!献宝兑宝活动由Michael EDDY、何颖雅、Fotini LAZARIDOU-HATZIGOGA和曲一箴(家作坊)与林苏葳(ClearWorld Media)发起并组织.
The "Life of Postmodern Tanghulu" workshop is co-hosted by Been from Carrot Design and Elaine W. HO from HomeShop. WaoBao! Spring Cleaning is organised by Suvi RAUTIO (ClearWorld Media) with Michael EDDY, Elaine W. HO, Fotini LAZARIDOU-HATZIGOGA and Twist QU (HomeShop).